Ybrant Digital To Merge With BSE-Listed LGS Global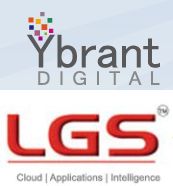 Hyderabad-based digital marketing solutions company Ybrant Digital is looking to merge with BSE-listed IT outsourcing services provider LGS Global Ltd in a reverse merger deal valued at around $559 million(~ Rs 2,475 crore).
The all stock deal has a swap ratio of six shares of LGS for every share of Ybrant.

LGS Global has 25.4 million outstanding shares and last month the promoters of the the listed firm subscribed to another 30 million shares. Total shares to be issued to Ybrant shareholders would be around 450 million giving them 89 per cent of the combined entity at a deal price of Rs 55 a share.
Suresh Reddy Chairman and CEO of Ybrant, who will be the Chairman and CEO of the combined entity, told Techcircle.in that Ybrant promoters will own around 40-50 per cent of the merged entity to be named Ybrant Digital Ltd.
Subba Rao Karusula, Managing Director of LGS, will be the Business Head of the LGS Division of Ybrant. Further, eight Ybrant directors will form the board of the combined entity making it in-effect a reverse merger cum takeover by the private equity backed Ybrant.

"This is a decisive move that accelerates our strategy and positions us to win by offering even greater value to our customers and partners. In addition to the clear strategic benefits of combining two highly complementary organizations, we can create substantial shareholder value through significant cost structure improvements and access to much larger resource pool," said Suresh Reddy, Chairman & CEO, Ybrant Digital.
LGS scrip rose 0.89 per cent to close at Rs 51 per share on Monday, valuing it at Rs 129 crore. The announcement of the merger came after trading stopped for the day. On Tuesday, LGS Global scrip rose 4.87 per cent to Rs 53.8 at mid-day trading.
Ybrant, that has raised over $100 million in equity and debt from some of the top PE funds and counts amongst its shareholders Oak Investment Partners, GE Asia Pacific Capital, among others, provides support services and software tools for online marketing. The company had proposed to go public in 2007 and even filed a prospectus with the market regulator but didn't go ahead with the listing. This could have been possibly due to the sharp market correction in 2007-08.

Established in 2000, Ybrant offers end-to-end digital marketing solutions to businesses, agencies and online publishers worldwide, using various digital communication tools including display marketing, e-mail marketing, search marketing, affiliation marketing, co-registration marketing and media marketing.
The firm also provides custom software services and solutions ranging from developing and maintaining new applications to implementing third-party software. The company has also launched its local search platform Ybrant Reach (YReach) in India.
Earlier this year, it raised over $48 million in equity and debt from PE funds from Oak Investment Partners, Asia Pacific Capital, ICICI Bank and an unnamed investor. Ybrant intended to utilise the fund to grow its reach, develop new technology, expand internationally and explore acquisitions.

In the last five years, Ybrant has acquired and integrated seven businesses from across the world, the latest being Israel-based Web 3.0, in which Ybrant acquired a minority stake in June in an all-cash deal. Late last year it had acquired Internet and search portal Lycos, which is a US-based subsidiary of Daum Communications of Korea, for $36 million in a stock deal.
Other acquisitions by Ybrant include US-based MediosOne (2006) followed by US-based ad network AdDynamix for $10 million, Israeli company Oridian for $13 million and Serbia-based Seenetix for its flagship bulk e-mailing product VoloMP in 2007. In 2009, Ybrant Digital acquired two companies – Max Interactive and Argentina-based ad network Dream Ad (to expand through Latin America).
Ybrant owns proprietary media such as Lycos, Gamesville, getMedia in Latin America and travel websites in Australia. It has partnered with publishers such as Facebook, Google, MSN, Yahoo!, and Viacom. LGS is a global IT implementation and outsourcing services provider providing end-to-end enterprise solutions and specialises in ERP, Microsoft and open source systems development. For the year ended March 2011, LGS had total revenues of Rs 485 crore with net profit of Rs 51.9 crore.

The new entity will offer comprehensive digital marketing services for businesses, publishers and agencies across the globe. Currently Ybrant has clients such as SAP, Porsche, Ford, UPS, Swissair, Chevrolet, 3M, Jeep, US Army, LaSalle and Lufthansa.
The new Ybrant will have operations in 20 countries and will employ 1,200. The transaction is expected to be accretive to Ybrant's pro-forma earnings per share in the first full year of combined operations based on achieving planned cost synergies. These anticipated synergies will result from efficiencies in administration, procurement, development and marketing, the company stated.
---