Dell Launches A New Tablet In China, Is India Next?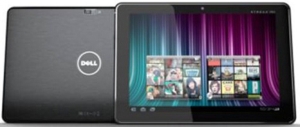 Dell has launched its latest tablet offering code named 'Dell T03G' or Dell Streak Pro in China. The tablet will be launched in other Asian countries like India later this year. The tablet is available at a price of $568 (around Rs.26,000), but if consumers want additional discount, they can purchase it online for $461 (around Rs.21,000). Here's a look at the tablets specifications.
This is the first 10 inch tablet offering by Dell, although there is a 5 inch smartphone cum tablet called Dell Streak that is already available in India. The tablet has a 10.1" WXGA (1280 x 800) multi-touch Gorilla Glass display and runs on the Android 3.1 (Honeycomb) operating system. It is powered by a 1GHz Dual core NVIDIA TEGRA T20 Duo processor and has 1GB of RAM.
Additionally it has 16GB of internal storage capacity which can be extended up to 32GB with the help of a SD card. The tablet has a 5 mega pixels auto focus rear camera with flash and zoom and a 2 mega pixels front facing camera.

Dell claims that the tablet will enable users to 'work smart and play hard', all on the same device. To validate their claim, the company has introduced a new application on the tablet called 'Dell divide', which provides the user with 2 running modes- work mode and the personal mode.
In work mode, users can access the corporate network and applications without worrying about the IT department snooping on their personal files and in the personal mode, users can access all of their personal data without compromising access to any sensitive work data.
The tablet has in built stereo speakers and offers Wi-Fi and Bluetooth connectivity and Dell promises a battery life of up to 12 hours. The dimensions of the device are 262.3mm x 178mm x 12.95mm and it weighs at 727 grams.

The Indian launch date has not been disclosed by the company, but it could be before the end of this year. The earlier version of Dell Streak had very few takers in the Indian market, so we will have to wait and see how this one fares in the market.
Whether the new tablet will be a worthy competitor to the Galaxy Tabs and the iPads, or it will end up being a disappointment like its predecessor, only time will tell!
---