Dial 'M' For Mobile Age Healthcare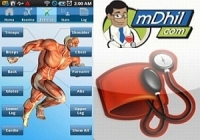 Mobile healthcare is gaining momentum in India and the country has recently seen a lot of mHealth initiatives. In a country which has more than 800 million mobile subscribers, the reach and potential of mHealth is mind boggling.
The mobile medical apps, currently available in the market, are of a diverse kind, though. While some of these apps tell you about the basic exercises which will keep you fighting fit, others provide healthy recipes and some even help you send reports to concerned doctors.
The government, too, has started a number of initiatives for providing mHealth services to people. And it is generally believed that there are a lot of opportunities in this space to reach out to the urban and the rural population. Here's a look at some of the initiatives taken by the government and the private companies.
Government Initiatives

The Indian government has also declared a few mHealth initiatives to provide healthcare services to the masses. There is the Integrated Disease Surveillance Project (IDSP), under which health workers in six Andhra districts will start sending health surveillance data to the concerned ministry via SMSs.
Also, pilot projects have been funded by the government for the implementation of telemedicine (including a mobile telemedicine project) in the states of Kerala, Tamil Nadu, West Bengal, Himachal Pradesh, Punjab, Tripura, Mizoram and Sikkim.
But considering the rapid increase in mHealth apps in the country and the importance of the information they provide to the public, there may be a need to regulate the functioning and delivery of mobile medical apps. The U.S. Food and Drug Administration (USFDA) have already come out with draft regulations for the same.
mDhil Joins Hands With Bharti Airtel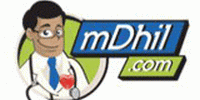 mDhil Health Info Services Pvt Ltd, a healthcare content provider, sends daily healthcare advice to users via SMSs, desktop and mobile web browser. The company has also announced that it is teaming up with Bharti Airtel to provide SMS-based health packs, priced at around Rs.1 per SMS.
"A large number of deaths happen due to easily preventable illnesses just because there is a lack of knowledge. People are not aware of things, not even something as fundamental as inoculation for polio or hepatitis," said Nandu Madhava, founder of mDhil, according to PR.com. "You don't have to reinvent the vaccine; you just have to give the information to people," he added.
Mind Storm Software Introduces HelloVaccine

Mind Storm Software, a Mumbai-based software consulting and training company, has launched an SMS reminder service called HelloVaccine. The service can be activated by simply entering the date of birth of your child. Once activated, an SMS reminder is sent to the parents every time a general vaccination (like polio drops) date is near.
HelloVaccine follows the immunisation schedule, set up by the Indian government, and is currently available only to organisations that can extend this service to their employees and also to NGOs. However, it can be made available to the general public, depending on its success. The service ensures that three reminders for each vaccine are sent to a subscriber and it is priced at Rs.2,000, Rs.4,000 and Rs.7,500 for 10, 25 and 50 accounts respectively.
Spice To Launch Jeeyo Healthy

Spice will launch a service called Jeeyo Healthy, which will provide health-related information, plus consultation and advice on mobile phones. For using this service, subscribers have to dial a number provided by the company and they can talk to medical experts and get useful information and advice regarding their health conditions. Users will be charged a small amount for using this service.
Health Apps In Apple App Store & Android Market
There are quite a few health apps available in the Android Market and the Apple app store. Have a look at a few of those.

JEFIT: This app acts as a personal trainer and guides the user through a series of selected exercises as per his/her requirements. You can also create a profile and maintain a record of your progress with the help of this app. Also, an animation plugin can be added free of cost, which contains animations demonstrating various exercises.
WebMD: This app can help users diagnose their health and additionally, will suggest cures for the ailments. It can provide ample information regarding a medical condition and can be of great help.

iHealth BPM: This app can be used for monitoring Blood Pressure (BP) on iPod touch's, iPad's and the iPhone. It includes a diary for tracking BP measurements taken by the iHealth BP dock. It also lets the user track the changes and reasons behind them using simple tools like interactive graph, management, smart World Health Organization (WHO) classifieds and an FAQ section. Users can also e-mail and share their results with doctors or family and friends.
What The Future Holds
Earlier this year, a report submitted by the World Health Organization clearly stated that eight in 10 countries are using mobile phone services for improving healthcare standards and it was found that only 19 out of the 114 countries surveyed had no mobile health initiative.
Additionally, smartphone applications will enable the mHealth industry to reach out to 500 million people out of the 1.4 billion (more than 33 per cent) smartphone users in 2015, according to the new 'Global Mobile Health Market Report 2010-2015' by research2guidance.
There is no doubt that mHealth is the future of healthcare services delivery as it has the potential of becoming the least expensive and most accessible medium that can effectively reach the urban and the rural populace due to the deep penetration of mobile phones in the country. But to be most successful in this space, a public-private partnership (PPP) is the best way to go.
Add to this the growing popularity of 3G in India and you get a medium with a lot of untapped potential. So don't be surprised if in the near future, all you have to do is to make a video call to your doctor and get that yearly routine check-up done.
Comment(s)