The Indian government appears to have accepted the telecom regulator's recommendations in the National Broadband Plan with regard to speed of broadband Internet and has revised its definition of a broadband connection as 512 Kbps (Kilo bits per second) from January 2011, from the previous definition of a minimum speed of 256 Kbps. In a long-awaited move, it has noted that effective January 1, 2015, the stipulated download speed for any broadband connection, either wireline or wireless, will be 2 Mbps (again bits, not bytes).
Milind Deora, Minister of State for Communication and Information Technology said in the Lok Sabha today, "According to TRAI's recommendations on the National Broadband Plan submitted on December 8, 2010, a broadband connection is a data connection using any technology that is able to support interactive services including Internet access and support a minimum download speed of 512 Kbps. Also, the upload speed should be atleast be half the download speed. This definition of broadband (both wireline and wireless) given in para 6.21 of the National Broadband Plan, is effective from 1st January 2011. The stipulated download speed of 2 Mbps will be effective from 1st January 2015."
Deora also noted that there were nine public sector and 132 private sector companies providing broadband internet services in India.
He also reiterated the government's stance against illegal activities by the service providers and said that there were 34 Telecom Enforcement, Resource and Monitoring (TERM) Cells set up across the country to check compliance of licence conditions issued by the government.
11.89M Broadband Users: TRAI
The total number of Internet subscribers in India rose by 5.29 per cent in the quarter ended March 2011 to reach 19.67 million, as per the Telecom Regulatory Authority of India (TRAI) report on "The Indian Telecom Services Performance Indicators" for the period January to March 2011.
The number of broadband subscribers is at 11.89 million - which makes it 60.44 per cent of the overall Internet userbase. This is up from 10.99 million at the end of December 2010, registering a quarterly growth of 8.17 per cent and an annual growth of 35.49 per cent.
The report, which was released last week, states that 86.09 per cent of the broadband subscribers use Digital Subscriber Line (DSL). Unfortunately, it appears that this report still adheres to the previous definition of broadband connection speeds of greater than or equal to 256 Kbps.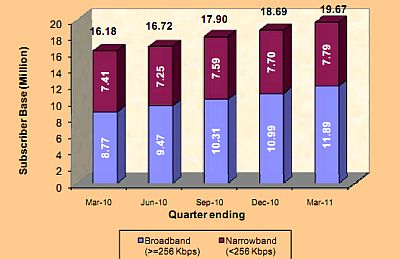 ---