InMobi Acquires US-Based Ad Software Developer Sprout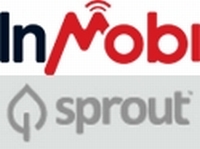 Mobile ad network InMobi, the second largest after Google's AdMob, has acquired the US-based ad software developer Sprout. However, the deal size and other relevant details are not available.
Sprout was launched in 2008 and is backed by Polaris Venture Partners. Its clients include noted companies like Chevrolet, Disney, Paramount Pictures, HTC, Sega and Nokia. The company has expertise in creating, building and distributing advertisements, based on HTML 5. The acquisition of Sprout brings with it rich media technology for ad creation and distribution on mobiles. InMobi will leverage Sprout's technology edge to enable its clients (agencies, brands and publishers) to build and distribute rich media ads for devices that support HTML 5. However, Sprout will remain an independent company post-acquisition. Carnet Williams, CEO and co-founder of Sprout, said, "InMobi's commitment to an open and independent Sprout made them the clear choice for us. We will continue to work with all existing partners, including competitive ad networks, globally."
Backed by top venture capital firms Kleiner Perkins Caufield & Byers (KPCB) and Sherpalo Ventures, the Bangalore-based InMobi continues to expand aggressively across the globe and has offices in Bangalore, Singapore, Tokyo, San Francisco, London and Nairobi. Its ad network reaches 314 million consumers in more than 165 countries, and delivers 36 billion mobile ad impressions every month.

"The mobile industry is struggling to fully capitalise on the engaging advertising experiences, now possible through smart devices. This acquisition will help scale the use of rich media advertising globally – a critical next step in helping the industry realise its full potential," said Ajit Nazre, Partner at KPCB.
Naveen Tewari, Founder and CEO of InMobi said, "We believe this is a huge step forward for mobile advertising. Sprout has an extremely talented team who are a great fit for our organisation. We are truly excited to have them as part of the InMobi team."
Recently Tewari, along with Blume Ventures, invested Rs.1.21 crore ($270,000) in Bangalore-based RupeeStreet Financial Services Pvt Ltd, which runs the website Moneysights.com. Tewari, who is also on the board of the international standards body Mobile Marketing Association, discussed with Techcircle.in the current mobile advertising scenario in India, the challenges companies face, ROI on mobile advertisements and the upcoming opportunities.

InMobi will also launch SmartPay, a performance-based global mobile payments solution for application developers. It will be available in the market in the third quarter of the year. The solution is aimed at handling regulatory complexity, fraud detection, tax issues, currency conversion, payment settlements and customer support to allow digital merchants to focus on building their core businesses, rather than drowning in red tape.
The company has recently completed one year in North America and announced new hires. While Peter Bassett, former senior vice-president of sales at Millennial Media, will be head of sales for North America, David Smith will head InMobi's East Coast sales, Susan Kuo, former vice-president (sales) at Booyah, will be head of marketing for North America and Archie O'Conner, former executive vice-president from MixerCast will act as the head of business development for North America. InMobi reaches 83 million mobile users in the USA and has over 10,000 advertisers, developers and publishers as its partners.
App-based advertising is fast rising as advertisers and brands realise the ubiquity of mobile phones, especially in Asia. In July, another fast-rising Indian ad network Komli Media had acquired a mobile ad platform to add to its bouquet of solutions for display ads, video, social media, search marketing and audience measurement. The company acquired Los Angeles-based ZestAdz, which also has offices in Des Moines, Iowa and Chennai, and delivers five billion mobile impressions globally. Other ad networks in India include Jivox, Vdopia, Ozone Media, Smile Group's Tyroo, Networkplay, Media Estate, IndiAds and AdsForIndians, as well as Guruji's mobile ad platform Adiquity and OMG.

---