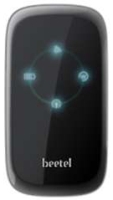 Beetel Teletech, a Bharti Enterprises group company which provides solutions for IT and connectivity needs has today announced that they will launch a new wireless portable hotspot device called the Beetel 3G Max in India.
The device has the ability to connect to a mobile phone carrier and in the process, provide internet access to up to five devices. Hence it can be used by multiple users, small businesses or maybe even enterprises.
Beetel that was earlier known for making landline telecom equipment's has expanded its scope of business and now offers solutions for connectivity and IT needs including mobile phone, IT peripherals besides wire-line telephone segments. The company has a significant share in retail and telecom service provider segments in the landline category and is also a distributor of memory and storage devices (HDD) for Transcend. Beetel is also in distribution and  marketing of brands like Blackberry, Apple, Samsung, Panasonic and Transcend among others and has products and solutions deployed in over 35 countries across 5 continents.
The company claims that the new device can function effectively from a maximum distance of 10 metres (around 33 feet) and it will provide internet or network access to Wi-Fi enabled devices like mobile phones, tablets, laptops among others. Windows 7, XP, Vista, MAC and Linux operating systems are compatible with the device and the company promises a battery life of 4 hours and a standby time of 40 hours for the device (with a 1500mAh battery).
Beetel 3G Max has a USB 2.0 port and will cost Rs.5,500. The company had earlier announced that it will foray into the tablet market with a new tablet by the end of this year.
It seems that portable wireless devices are in demand these days since many companies have forayed into the segment. Earlier this year, Micromax launched its pocket 3G wireless router called MMX400R which was priced at Rs.4999 while last year Tata had come up with Tata Photon Wi-Fi Pocket Router (sans the 3G). Additionally, there is Vodafone's R201 3G wireless router which is also priced at Rs.5,500 and then there is Olive Nexus, priced at Rs.3499.
---