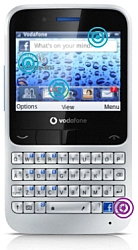 Vodafone is all set to launch its own low cost Facebook mobile phone offering called 555 Blue in India. The company has already launched the mobile phone in UK for a price of $100 (around Rs.4,500). Although the Indian price and release date is not yet confirmed by Vodafone, it could be launched by the end of this month.
The highlight of the device is that it promises to offer the users a customized Facebook experience (it will automatically update Facebook every 20 minutes) and is basically for the die-hard social networking fans. It has a dedicated Facebook 'F' button, which can be used for a number of functions like instantly posting a status update (with photos or links) from the browser.
HTC had earlier come out with a Facebook phone of its own code named HTC ChaCha, which is an Android offering and is priced at Rs.14,999.
The new mobile phone by Vodafone has a 2.4 inch colour screen (240x320 pixels resolution) with optical navigation and a QWERTY keyboard (Chacha has Qwerty plus a touchscreen). It also has a 2 mega pixel rear camera with flash which allows for instant uploading of pictures once they are clicked (while ChaCha has a 5 mega pixel camera). The internal storage capacity of the device is 40MB (512MB in ChaCha) which can be further extended up to 16GB with a MicroSD card.
A downside of the device is that it won't offer 3G services (unlike HTC ChaCha) and will work solely on 2.5G network. Then the mobile phone has no Wi-Fi, although it does offer Bluetooth and a music player with FM radio. The mobile phone will be available in Grey colour and should be priced in the range of Rs.4000 to Rs.8000.
Although there is a huge price difference between HTC ChaCha and Blue 555, the comparison between the devices is noteworthy because both are touted as exclusive Facebook phones.
But let's think over it. Do we really a Facebook phone? Yes Facebook has a lot (and I mean a lot) of users in the country and it is the most popular social networking site in the world, but the Facebook apps that are already available in regular smartphones are more than enough to satisfy the needs of the Facebook hungry generation.
But if you still want to buy a 'Facebook phone' and can spend a little more cash, I would suggest that you give this mobile phone a miss and opt for HTC ChaCha.
---