MTNL Finalizes 3G Roaming Agreement With Aircel And Tata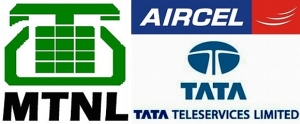 State run Telco Mahanagar Telephone Nigam Ltd (MTNL) has finalised 3G roaming agreements with two private telecom firms Aircel and Tata Tele in the Delhi and Mumbai circles.
The agreement could generate around Rs.250 to Rs.300 crore in additional annual revenues for MTNL, which will prove helpful since it has been bleeding financially. In 2010-11 itself, the net loss was Rs.2,827 crore.
Airtel, Vodafone and Reliance were the only ones who got licenses for 3G in both the metro cities, since these two were the costliest circles for 3G; Delhi's bid was Rs.3,317 crore while Mumbai's was Rs.3,247 crore. The new agreement between MTNL and the two Telco will allow them to provide their subscribers in the two cities with 3G services even though they don't have licenses for them.

Recently, the company had a meeting with the department of telecommunications to discuss the subject of 3G roaming agreements and it is in this meeting that the green signal was given.
"We are in discussions with both of them (Tata Teleservices and Aircel). We will shortly announce the final deal," said Kuldeep Singh, MTNL chairman and managing director, according to afaqs.
Aircel already has 3G spectrum licenses in 13 circles and had added 0.91 million customers in June taking its subscriber base to 57.98 million. Tata Teleservices on the other hand has 3G license for 9 circles.

Just last month, rivals Bharti Airtel, Vodafone and Idea got into inter and intra-circle roaming agreements to provide 3G services to their respective customers across India. The agreement between the three Telco's allowed each of them to have a pan India presence and that too at reduced costs. Although the financial details of the revenue share agreement were not disclosed.
With the growing popularity of 3G in India and the storm of 3G enabled smartphones in the country, the Telco's had to get into some kind of an agreement eventually, since Delhi and Mumbai are two very important circles.
---