MakeMyTrip Teams With Existing Investor SAIF To Acquire Majority In IXiGO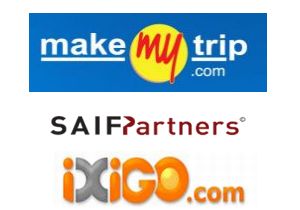 India's top online travel agency MakeMyTrip Ltd has joined hands with its largest shareholder private equity firm SAIF Partners, to acquire a majority stake in Gurgaon-based Le Travenues Technology Pvt Ltd, which owns and operates travel search engine iXiGO. While MakeMyTrip is picking 19.9 per cent for a cash consideration of $4.8 million, SAIF is acquiring 56.7 per cent for $13.7 million.
IXiGO is a search engine which trawls inventory on other online travel sites to help people choose the best prices for airlines tickets, bus tickets, railway booking, hotels and travel deals. Launched in June, 2007, by Aloke Bajpai, Rajnish Kumar and Dharmendra Yashovardhan, the start-up first raised a seed investment from BAF Spectrum, Singapore, in 2008 and is currently valued a little under $25 million. BAF Spectrum has completely exited from iXiGO with this deal. There were do further details on the returns made by BAF.
The website witnesses 1.7 million searches per month and has recorded one million visitors (not unique) per month. It claims to cover more than 2 per cent of all online transactions in the country, enabling for its partners a total transaction size of $4 million per month. The company, however, has not shared its revenue and profitability status.
The decision to purchase shares was taken on July 4, 2011, and the acquisition will be completed this month. "We believe this investment has synergies and benefits our online travel business," MakeMyTrip has said in its quarterly financial report.
Representative(s) from SAIF Partners will be joining the board of iXiGO. SAIF still has a 32 per cent stake in MMT.
"There is no conflict of interest," said Aloke Bajpai, Founder-CEO of iXiGO.com, speaking to VCCircle. " We will remain separate entities and the objective is to continue to grow Ixigo. Ixigo has a different business model and operates in the travel media space compared to the transactional business of MMT. There are synergies - we can work together on growing the offerings. This could turn out to be a win-win situation."
According to Bajpai, there will be no changes from a management perspective and the company will continue to be run by its current promoters. "We will remain separate entities and the objective is to continue to grow iXiGO."
On the future possibility of a merger with Makemytrip, Bajpai said, "What happens in the long run is not something I can comment on today. We will continue to have significant skin in the game. The business plan and future direction of Ixigo is something that the board will decide. It's not a merger or acquisition. Makemytrip is not going to consolidate it in the financials as their stake is less than 25 per cent."
In the conference call following the results, Makemytrip CEO Deep Kalra said that the company will look to increase its stake in iXiGO over time.
The funds will be used to expand its product range for online travel research and trip planning. "We are looking at how we can expand the scope of research and planning in travel space. We will enable more efficient travel buying decisions, research and information for our users," he added. Currently, iXiGO operates one office and has 20 people on board. Without sharing the specifics, Bajpai has said that he plans to increase his team size significantly.
Ravi Adusumalli, managing partner and head of India operations for SAIF Partners said, "Online travel remains the leading growth driver of e-commerce and online advertising in India. We are glad to be backing a passionate team with a proven track record of innovation and product-led growth in this space."
SAIF's top investments include One97 Communications (mobile VAS), JustDial (local search) and HomeShop18 (e-commerce). Recently, SAIF Partners and Kalra had jointly invested $5.5 million in ZOVI.com, an exclusively online clothing brand launched in India.
In May this year, MakeMyTrip had acquired 79 per cent equity stake in Singapore-based Luxury Tours & Travel Pte Ltd for $3 million. It will now acquire the remaining shares of LTT from the existing shareholders in cash, in three tranches and over a three-year earn-out period ending June, 2014. In June, MMT had approximately invested $0.4 million of the total $0.8 million, which it had planned to invest in tranches until June, 2012, for the subscription of new equity shares to be issued by LTT.
The NASDAQ-listed company has reported revenues of $52.04 million for the quarter, up 65.7 per cent quarterly from $31.4 million, and 54.3 per cent on an annual basis, from $33.72 million in the June quarter of last fiscal. Net profit has fallen 79.7 per cent on a sequential basis to $0.75 million. MakeMyTrip competes with Yatra.com and Cleartrip.com in India.
Comment(s)