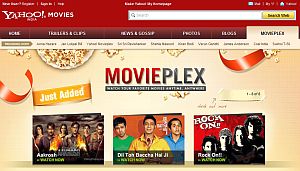 Internet giant Yahoo India has launched moveiplex service, which will offer users to enjoy licensed full-length bollywood movies for free through Internet on demand. The company has already tied up with Shemaroo Entertainment and is in talks with various other production houses to offer more movies to users in coming days.
Currently, the company has already uploaded eight movies (such as Dil Toh Baccha Hai Ji, Rock On, Crook and Lamhaa) on the site.
According to a comScore report issued during March 2011, the Indian viewers' presently spends more than 9.1 billion minutes seeing online videos every month, making it only the third content consumption sector behind news and sports.
"Over 3 crore Internet users consume 170-crore videos every month across India. With the increasing demand for online video, both consumers and content providers are looking for a trusted destination where quality content can be consumed in a piracy-free environment at their leisure," Yahoo! India Managing Director Arun Tadanki said.
Movieplex is an example of how Yahoo! connects people to what matters to them the most and Indian movie lovers now have the best full-length movies available to them at their convenience, he said.
Earlier in June, Google-owned You Tube started a full fledged YouTube Box Office channel, with Intel as an advertiser, and content partners like Nirvana Digital, Shemaroo and Yashraj Films. Besides featuring full length movies, YouTube Box Office also has contests and other movie trivia to keep the viewers engaged. YouTube Box offers more than 1500 titles of major blockbusters, which include regional language films in Gujarati, Marathi, Telugu, Tamil and Bengali.
One can log onto Movies.Yahoo.in/Movieplex to watch their favourite movies without any commercial break.
---