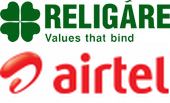 Religare Technologies has launched Mediphone, a 24x7 medical assistance service on phone for mobile users in partnership with Airtel.
Religare Technologies is a public listed IT services firm of the diversified business group led by billionaire brothers Malvinder and Shivinder Singh. Fortis Healthcare which is a part of the group is acting as the knowledge partner for the new initiative. The service was soft launched earlier this month and since then has been receiving more than a 1,000 calls on a weekly basis, according to the company.
But this is not the first such initiative; earlier Aircel had also launched its medical consultation service on phone called Apollo's Tele Triage (in partnership with Apollo) that provided basic consultation for Rs 45.
The service, which uses a software engine licensed from Medibank, an Australian company, basically allows Airtel customers to call and seek advice on their medical conditions from certified doctors. Although it's basically meant for non life-threatening ailments, the service can also tackle emergencies. In case of an emergency, the doctor will advice the patient and will also help him with directions for reaching the nearest hospital in the vicinity.
The fee per consultation is just Rs 35 (much less than the money charged by a general physician these days) which is charged on the mobile phone bill /account balance depending on whether it is a postpaid or a prepaid connection. To use the service, Airtel users can simply call 54445 from their mobile phones.
"The service is targeted at bridging the healthcare divide," said Ashish Vijh, Senior Vice-President, mHealth, Religare Technologies, according to Business Line.
Earlier, Religare Technologies had set up a phone and Web-based health information service called Healthline 24x7 aimed at helping callers with locations and directions of the appropriate medical service.
As of now, the service is available in Madhya Pradesh, Chhattisgarh, Uttar Pradesh, J&K and Himachal Pradesh but Airtel plans to extend the service across India.
---