Nokia Launches 3 Symbian Belle Smartphones
Nokia has announced the launch of three new smartphones with the Symbian Belle operating system. The Nokia 700, Nokia 701 and Nokia 600 come with single-tap NFC technology which enables content sharing between the devices and also allows any of the three devices to pair with NFC-enabled mobile accessories such as speakers or Bluetooth headphones and headsets.
The Nokia 600, Nokia 700 and Nokia 701 could be priced around Rs.12,000, Rs.18,000 and Rs.20,000 and they are expected to launch in India in the coming months. Let's have a look at the 3 smartphones and the Symbian update.
Nokia 700

Nokia claims that the device is the most compact touch monoblock smartphone in the world; its dimensions are 110 x 50.7 x 9.7 mm and it weighs at 96 grams.
The mobile phone comes with single-tap NFC sharing and pairing capabilities, a 1 GHz processor and a 3.2 inch AMOLED screen with ClearBlack display. The internal memory of the device is 2GB (expandable up to 32GB with a microSD) and it has a 5mega pixels full focus camera with LED flash that can capture high definition videos. The company claims that it is also the most eco friendly smartphone from Nokia.
Nokia 701

Nokia 701 incorporates the worlds brightest ever mobile phone display based on a 3.5 inch ClearBlack display, according to the company. It also has active noise cancellation (for better sound) and like the other smartphones, provides single-tap NFC pairing and sharing capabilities.
It is based on Nokia C7's design, has a 1GHz processor and has 8GB internal memory which can be further expanded up to 32GB with a microSD card.
The mobile phone has an 8 mega pixel full focus camera with dual LED flash and 2x digital zoom that can record high definition videos and a front-facing camera.
Nokia 600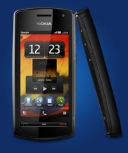 The Nokia 600 smartphone is Nokia's loudest mobile phone at 106 Phons. Focused on music, the mobile phone comes with built-in FM radio and FM transmitter and provides 60 hours of music playback, according to the company.
Cheaper than Nokia 700 and Nokia 701, Nokia 600 comes with a 1 GHz processor,  a 5 mega pixels full focus camera with LED flash and high definition video capture. It has 2GB of internal memory with expansion capabilities up to 32GB with a microSD card.
Symbian Belle
Symbian Belle is the latest software update to the Symbian platform, which started with Symbian Anna and will continue into 2012. Symbian Belle increases the number of home screens from three to six and it also includes a pull down menu and taskbar to access notifications from any of the home screens.
The Web browsing experience has also been enhanced but the most exciting feature is the single-tap NFC sharing and pairing capability. This allows contacts, videos and images to be shared with other NFC-enabled devices and smartphones, as well as pairing with NFC-enabled mobile accessories such as speakers and headsets.
"After bringing exciting new features to the Symbian user experience only two months ago with Symbian Anna, we are now driving the platform even further with our most competitive Symbian user experience ever," said Ilari Nurmi, Vice President at Nokia. "These will not be last products or updates we will deliver on Symbian," he added.
Although Nokia has been updating the Symbian OS at regular intervals, it still feels like they are just buying time before abandoning it in favour of the Windows mobile OS. So if you are planning to buy a new mobile phone, give the Nokia-Symbian phones a miss and instead opt for an Android or an Apple.
Comment(s)