MTS India Launches Budget Android Smartphones In India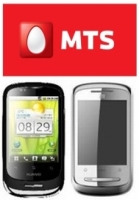 Sistema Shyam TeleServices Limited (SSTL), (that operates nationally under the MTS brand) has launched two new affordable Android smartphones in India in partnership with ZTE and Huawei. The new mobile phones: MTS MTAG 3.1 and MTS Livewire both incorporate Qualcomm's Snapdragon S1 processors and are priced in the sub Rs 5000 category.
Vsevolod Rozanov, President & CEO, MTS India, said "This initiative has been designed to take the power of Android to the masses. Launched in the sub Rs 5000 category, these are the most affordable Android Smartphones in India."
MTS MTAG 3.1 (Huawei C8511)
It comes with a 2.8 inch capacitive touch-screen (240 x 320 pixels resolution) display and has a 3.2 megapixel camera. The device also has the MTS TV application that allows its users on-the-go access to Live TV and on demand video playback. Additionally, MTS MTAG 3.1 provides access to Google Mail, YouTube, Google Talk and Google Maps and has voice search.
MTS Livewire (ZTE N600)
It runs on the CDMA EV-DO network providing access to hi-speed internet and Google offerings like Google Mail, YouTube, Google Talk and Google Maps.
Both the Smartphones run on the Android 2.2 (Froyo) operating system that allows users access to more than 200,000 applications. But there is a question mark over how many of the applications will work on these low powered mobile phones.
"Combining the power of the Snapdragon processor and the much sought after EV-DO mobile broadband connectivity, these devices will revolutionise smartphone experience for the masses," said Avneesh Agrawal, President, Qualcomm India and South Asia.
The mobile phones are nothing to write home about but since they are so aggressively priced, people looking to get their hands on a low cost Android handset can opt for them.
Comment(s)