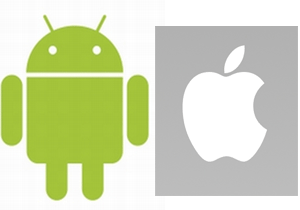 Believe it or not, our life today is mostly ruled by digital natives, with strong opinions about everything tech under the sun. You run into them almost everywhere – at workplace, on the street, in food joints, across shopping malls and even when commuting. And in case they catch you using a basic Symbian handset even now, you will be promptly advised to get something useful and classy – an iPhone, for instance.
Of course, this iconic smartphone from Apple's stable has smitten geeks and non-geeks alike. But then, every popular myth need not be the truth. People often proudly flaunt their newly acquired iPhones for some time and then slinkingly buy a new handset – this time, an Android. Interestingly enough, this seems to be a global trend right now. Take a look at the July 2011 statistics released by Nielsen. Even in the USA, Apple's homeland, Android remains the most popular operating system with 40 per cent market share in its kitty while the iOS is stuck at a steady but unflattering 28 per cent.
But there's more to disappoint Apple fans who are waiting to get their hands on the soon to be launched iPhone 5. According to a Nielsen survey, at least one-third of the people, keen to buy a new smartphone by 2012, want an Android device. As for the early adopter crowd, 'innovators' who are usually the very first to embrace new technologies, Android is the next Desired Operating System. Forty per cent of them vote for the Android, compared to 32 per cent who will go for the iOS. No wonder, India is catching up fast with the global trend. But then, what's gone wrong with the iconic Apple iPhone and what's the secret of Android's fast-growing mass appeal?
If You have an iPhone, Well, You 'Only' have An iPhone
It seems a bit unfair to tweak Apple's promo, but that's exactly what the market is feeling. With innovations happening lightning fast, gadget life cycles have become phenomenally short – not even an avid brand follower can wait an entire calendar year before he/she can buy the coveted handset.
"Technologies are moving fast and early adopters want to own the newest of the new – ASAP," points out Neeraj Garg, a Delhi-based developer. "Plus, they want options, plenty of them, before paying. Brands are not enough; people now want good value for money."
As consumers are king in a technology-driven, short-lifecycle mobile market, it's no wonder that Android has the edge. For one, there's strength in numbers. Android has dozens of hardware partners across the world which means Android handset makers don't release a device a year, which is roughly Apple's update schedule. Instead, you will find multiple devices or iterations of the same gadget flooding the markets all the year round. Thanks to a plethora of brand new products from big brand names like Samsung, HTC, LG and Motorola, customers are spoilt for choice – especially if they are after the latest available tech (yes, specs matter to them as much as the overall user experience, if not more) and want to get it at the earliest, without any waiting.
Also, one need not underestimate the overall user experience (again, a concept, promoted by Steve Jobs) that these devices offer. Most of the android device makers are aggressively pushing for hardware upgrades and thus appealing to tech lovers. Take for example, Samsung's all-new GALAXY S II that runs on the latest Android 2.3 Gingerbread and boasts faster and more powerful user experience. Under the hood, it has a 1.2 GHz dual-core processor while the 4.3 inch SUPER AMOLED Plus display ensures gorgeous visuals and PC-like Web browsing. And the video experience is simply superb, as it can handle all popular video formats and codecs in 1080P. While some experts compare it with the yet-to-arrive iPhone 5, it certainly looks and feels like a dream device – so far as user experience is concerned.
More Chinks In Apple's Armour
The fast-paced Android evolution across the globe suits the mindset of early adopters and tech-savvy buyers who buy early and buy frequently. As for the not-so-geeky users in our country, they often follow their techie peers and don't seem to care much for a product that needs to be booked months in advance. Moreover, iStores in India (run by resellers) are just too few to cater to a growing customer base and online shopping may not work out in this case.
For a common user, off-the-shelf buying makes sense when it comes to hi-end gadgets. The look and feel of the product and the custom demo are sure-fire motivators – leading to budget-stretching and impulse-buying. I still remember a friend going bust in a brick-and-mortar BlackBerry showroom although he had gone in to buy only a basic model. However, one would never bet his last dime on a gadget which is not physically there and which may finally arrive with loads of technical snags and glitches.
It is, indeed, a critical issue as Apple's marketing strategy and after-sales services are not India-friendly, to say the least. True, some of the official carriers are offering iPhone 3GS or iPhone 4 for a flat Rs 19,990 and there is the rumour that a cheap 8 GB version of iPhone 4 will soon hit the country to satisfy an iPhone-crazy community. But no one knows for sure when the new hotness will arrive or what the price range will be. Here, the iconic brand seems to be shrouded in myths while its Android competitors are getting real and getting aggressive every day.
"The after-sales service is pathetic," rages a friend. His brand new iPhone 4 display is not working properly and the audio output is not up to the mark. It seems he will have to spend a substantial amount to get these things right, and it will take some time as well. More iStores, more sales and after-sales outlets might have solved these issues without costing a mini-fortune. As of now, he is trying to offload the device for a nominal price and buy the new-fangled Samsung thingy. Incidentally, it reminds one of Motorola. People do buy a Moto for its looks and features, but the after-sales support often draws flak from users. Now that Google has taken over, one may expect some improvement in terms of hardware, software and most importantly, customer care.
Nokia Is Down But Not Out
And finally, there is Nokia Oyj, the world's biggest manufacturer of mobile phones by units. The Finland-based company has recently announced three Symbian smartphones equipped with near-field communications (capability for communicating with nearby devices including other handsets) in a bid to counter Google's Android. Incidentally, Google, Research In Motion (RIM) and other handset makers are also trying out NFC, some versions of which can be used for electronic payment. The three Nokia models running Symbian Belle (the latest in a series of software updates) will help Nokia develop 'affordable' smartphones, further toughening the competition in the fast-growing handset segment. But here is a catch. Since Nokia has committed to Microsoft for the Windows Phone platform, it will soon stop selling Symbian-based smartphones and lower-end feature phones in the USA and Canada, where it plans to re-establish itself with its Windows Phone handsets. And this will be the biggest marketing push by the company to win the ongoing smartphone battle.
The Bottom Line
Consumer sentiment and market data clearly indicate a runaway victory for the Android in the coming years. Unless, of course, Apple does what it has always done so successfully – bringing to us a new technology, nay, a new vision.
For starters, it can go ahead with more frequent releases – featuring minor spec bumps instead of major overhauls. That's how the Macs are mostly managed and iPhones can do the same. In fact, if rumour mills spewing speculations on the Web are to be believed, the next iteration (iPhone 5) will be nothing more than a minor spec bump – coming with Apple's A5 processor (used in iPad 2), dual LED flash (some say it won't be there), an 8 MP camera (Sony unit) and capability of shooting video in true 1080P. On a side note, you can expect a major overhaul in 2012.
All these may be mere speculations without an ounce of truth. But it will be interesting to wait and watch Apple's strategy post-Jobs and what it does to retain control of the smartphone industry. Will the Cupertino company leverage the HTML 5 standard that makes obsolete plug-in-based technologies such as Adobe Flash and Microsoft Silverlight? That is a distinct possibility as it is open source and has similar multimedia capabilities. Or will the company change its mind about Adobe Flash support and give its users a pleasant surprise?
Most importantly, will Apple try and explore largely untapped markets like that of India? Premium positioning is all very well but consumers will almost always seek easy access to latest technology options – at competitive pricing. That essentially means faster turnaround, mass marketing and, at times, giving in to popular demands. The iPhone is an iconic product that we all love to cherish. But there are other considerations that may drive one to Android or Windows OS or even a Symbian for that matter. To capture the volatile consumer market challenged by a dwindling economy, Apple must move ahead without losing its magical past. Otherwise, we may fall in love with its iconic status but must stay married to less-hallowed options because they are cheaper, they are everywhere and the data plans won't cost us a fortune.
---