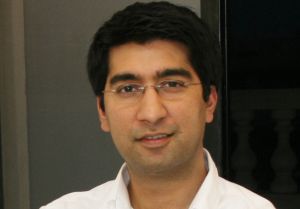 Online shopping is exploring new product markets with customers across India spending, believe it or not, lakhs in single purchases! According to Chennai-based Caratlane Trading Pvt Ltd, which runs the online diamond and jewellery portal CaratLane.com, buyers are spending an average of Rs 1 lakh on the site and the company has seen a peak transaction size of Rs 50 lakh. CaratLane.com has risen as one of the top online destinations for jewellery in India and has sold 3,000 solitaires so far. Jewellery is a fast-rising niche in the e-commerce boom currently occurring in India and CaratLane, at the forefront, is experimenting with new technologies and branding opportunities to keep the momentum going. In June this year, the company raised $6 million from New York-based hedge fund Tiger Global Management LLC.
Techcircle.in caught up with Mithun Sacheti, CEO, CaratLane, at the side-lines of VCCircle's E-Commerce Forum, to learn more about the website's growth, the new retail augmentation technology he plans to introduce and further operational expansion on the cards. Sacheti is also the director of jewellery retail chain Jaipur Gems.
Can you take us through CaratLane's journey and tell us about your revenue goals for this fiscal?
We have experienced 300 per cent CAGR (compound annual growth rate) and reached Rs 50 crore in revenues as of March 2011. We intend to double this by March 2012. Currently, we have 6,000-7,000 unique visitors per day and, primarily, it's a young demographic - most of them are aged between 18 and 35 years. Also, around 60 per cent of our sales come from the metros. We are a second purchase destination for most of the users and that's pretty crucial. So re-targeting is an essential part of our plan. We have reached a peak of Rs 50 lakh in transaction sizes and the average transaction is around Rs 1 lakh for solitaires.
How many products do you sell online and how do you source them?
We manufacture most of the jewellery ourselves, and follow just-in-time production. We also aggregate solitaires from six countries and the site features one lakh solitaires to choose from. But we don't keep on adding products to the site. Instead, we focus on improving search efficiency and navigation – so that people can easily find what they want.
Is there a new release of the site coming up?
We constantly work upon the site's user interface and every two weeks, a new release of the site is up. The second major release of our website is scheduled for November/December. And this will be based on the learning of the past three years.
Do you think that discovery is still a challenge for e-commerce sites?
Discovery will improve with UI improvements. We have plans to introduce some cutting-edge technology to make the experience much more real. We plan to launch retail augmentation with the help of 3D imagery.
Tell us more about the retail augmentation of reality. How did you gain access to the technology and when do you plan to launch it?
We acquired the technology assets from a non-Indian developer involved in retail augmentation. That kind of demo offers a novel experience. For example, if you like a ring and want to know how it fits, you will be able to do it now. I will not be able to share much more right now, but it is an exciting step forward.
Can you tell us about your facilities and expansion plans?
We are inward-looking right now, building up categories and also scaling up the team. We are also launching a new marketing office in Bangalore, and already have three offices in Mumbai, Bangalore and Chennai. Plus, there's a CaratLane office in New York. The company has two manufacturing units in Mumbai and Chennai, which double up as logistics offices.
How much are you spending on branding?
Over half of our investment goes into print advertisements. We are also planning to launch a brand-building campaign soon. Then there will be offline experience centres in Mumbai and Delhi in November, which are currently undergoing a test run. These will be similar to kiosks, but will not hold any physical inventory. Instead, it will encourage users to buy online and add value as well. It will also push our branding across to shoppers.
What do you think of the e-commerce bubble and the overly high valuations?
The bubble is everywhere, not just in online valuations. The valuations are based on the cost of entering a business. I would say we are at a peak valuation level in India today.
What are the challenges you are facing?
The biggest challenge is – although the value proposition exists, is the customer ready for high-value transactions online? We did a survey back in 2007 and found out that 60-70 per cent of users were not satisfied with e-commerce. This was due to the disservice of the service providers and the previous generation of e-commerce entrepreneurs which led to bad word of mouth about online shopping. We had a three-year period to resolve it and transactions have risen now.
---