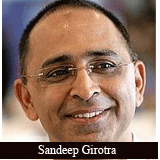 Telecom infrastructure provider Nokia Siemens Networks (NSN) has appointed Sandeep Girotra to lead its Indian business unit.
Girotra will be based in Gurgaon and will take over the new role from October 1, 2011. He will report to Ashish Chowdhary, a member of the company's executive board and head of customer operations east (which includes India as well as China, Japan and the Middle East), who has been the acting head for India since January 2011.
Since joining NSN in May 2004, Girotra has worked as a number of executive positions - in key account management, strategy, business development and business solution sales. "Nokia Siemens Networks plays, and will continue to play, a leading role in the overall development of the country's telecommunications industry," he said. NSN employs 15,000 people in India and offers managed services, wireless infrastructure and carrier equipment.
---