Google Launches Blogger App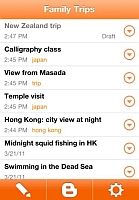 Google has launched a new application for Apple's iOS called 'Blogger' that works on the iPhone, iPad, and iPod Touch. The app will enable users to publish and edit posts to the blogging service from Google.
For using the app, a sign in with Google credentials is required after which, a composition window for the users most recently active Blogger blog opens (provided he/she has one).
The tools are given on the top and bottom bars while the space in between is for writing. Users can add photos directly from the photo library or the camera and change its size as per their requirement.  A preview option is also available that lets users check how the blog is looking on the web.
Switching between blogs is also very convenient, but there are a few chinks in the armour of the app.
The blog works on the iPad but only in the compatibility mode, also users cannot or customize font styles. Then reverting back to a previous draft is problematic because when a content field is edited, the back button turns into a save button.
The app faces competition from Tumblr, Posterous and WordPress, who all have similar apps out already.
Comment(s)