LAVA Launches W150: A Portable Wireless Router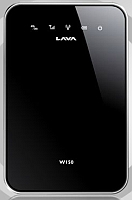 LAVA Mobiles has entered the portable wireless router market by launching W150, a pocket wireless router. The router enables internet and data share between a maximum of 32 users (within a 50 meter range), unlike the portable routers offered by other companies that can only connect up to 5 or 6 users.
Also, the router has a Plug and Play option that enables consumers to use the device instantly (no software installation is required). The device can connect to the internet via an ADSL/Cable Broadband (RJ45) port, USB Data card and EVDO and 3G Dongles and it is available for a price of Rs 2,900.
The supported operating systems include Windows 7/ Vista/ XP (SP2 and above), Android 1.6/2.1/2.2 and Mac OS X 10.4.9 and later up to 10.6.0. The device has a USB 2.0 port and an Ethernet port for connectivity and its supported gateways include TCP/IP, UDP, DHCP Server, NAT/NAPT, DNS Relay, SNTP, UPnP, Static Routing, MAC/URL/IP filter, VPN Pass-through, MAC Clone and Radius Server.
The router provides secure access to the internet through an in-built Firewall (WEP, WPA) and has a 2300mAh battery that offers up to 4 hours of battery life. The dimensions of the device are 94mm x 61mm x 14.7mm and it weighs at 100 grams.  An LED indicator has also been included that displays power, battery, Wi-Fi, signal and the network mode.
Earlier this year, Beetel had launched 3G Max for a price of Rs.5,500 while Micromax launched its pocket 3G wireless router called MMX400R which was priced at Rs.4999. Last year Tata had come up with Tata Photon Wi-Fi Pocket Router (sans the 3G). Additionally, there is Vodafone's R201 3G wireless router which is also priced at Rs.5,500 and then there is Olive Nexus, priced at Rs.3499.
Comment(s)