Motorola Mobility Launches Budget Android Smartphones In India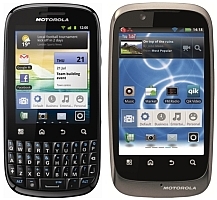 Motorola Mobility India Pvt Ltd, a subsidiary of Motorola Mobility, Inc has launched two budget smartphones called Motorola FIRE XT and Motorola FIRE. Google had recently acquired Motorola Mobility for $40.00 per share in cash, or a total of about $12.5 billion. The company had stated that the acquisition would enable Google to supercharge the Android ecosystem and the new launches indicate that the process has already begun.
The mobile phones are powered by the Android 2.3 operating system and are available for a price of Rs 13,890 and Rs 9,990 for Motorola FIRE XT and Motorola FIRE respectively.
Motorola FIRE XT has a 3.5 inch touchscreen display and runs on the Android 2.3 (Gingerbread) OS. It has a 5 mega pixel auto focus camera with in-built flash and a front facing camera for video chat.
Motorola FIRE has a 2.8 inch touchscreen display and a full QWERTY keyboard and runs on the same OS as FIRE XT. It also has a 3 mega pixel rear camera.
The internal memory of both the devices can be extended up to 32GB with the help of a microSD card (a 2GB microSD card is provided in the box).
Both the mobile phones allow users to switch between friends and work-centric modes depending on their requirements with the new MOTO Switch user interface. Both are 3G/ Wi-Fi enabled and support 3G hotspot for connecting up to 5 devices.
They devices have FM Radio with radio data system (RDS) support and provide access to Google Maps, Google Talk and Gmail. They also have an assisted global positioning system (aGPS).
"With easy multitasking and contact management, faster and easier interactions, the Motorola FIRE XT and Motorola FIRE make for a great mobile experience at a great price," said Rajan Chawla, Mobile Devices business country head-sales and operations, India and South West Asia, Motorola Mobility.
Comment(s)