Google Expands Chrome Web Store In India
After nine months of its launch in the US, today Google has expanded its Chrome Web Store (an open marketplace that gives Chrome users the ability to search for and use applications on the web) in 24 more countries, including India.
With the help of the Chrome Web Store, users can now search for and add new apps, extensions and themes across a variety of categories to its web browser Chrome. Additionally, in an attempt to make the store even more relevant for the Indian consumers, starting today, they will be able to access a range of new applications from Indian developers and publishers too.
The apps are available in various categories that include Education, Entertainment, Family, Games, Lifestyle, News & Weather, Productivity, Shopping, Social & Communication and Utilities. Chrome has also provided a search bar which can be used to search for relevant content (apps, extensions and themes) by the users. This will come in handy if you are looking for something specific.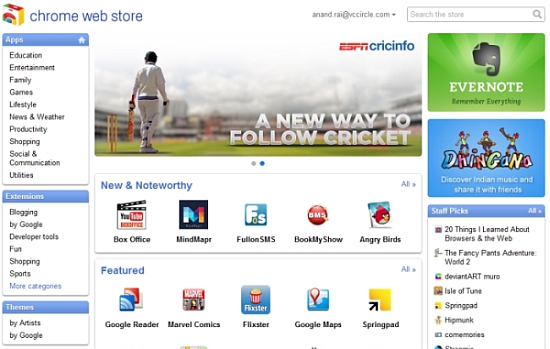 Additionally, users can listen to Indian music from Saavn or can follow all the latest developments in cricket with the ESPN Cricinfo app. Also, the TurboCricket app allows users to play the cricket game. Other apps include news apps like Midday (for latest Bollywood gossip) and Jagran (that provides news in Hindi) among others.
Some other useful things for Indian users on the Chrome Web Store include the BookMyShow app for booking tickets of latest Bollywood and Hollywood movies, eBay Extension for Google Chrome for keeping track of new deals on eBay and the popular game Angry Birds.
For accessing the apps, extensions and themes, users will first have to download Google Chrome on their devices (PCs, laptops etc) and then visit the Chrome Web Store.
Comment(s)