After rumours for the same doing the rounds for a long time, Mozilla has finally come out with a test version of its Firefox browser for Android tablets.
The browser comes with back, forward and reload button and it has both tabbed browsing (which means users can load Web pages in new tabs, similar to the PC version of the browser) and Awesomebar (which enables the users to do keyword searches of browsing history using the URL field)
Also, when the users are using the tablet in landscape mode, the tabs will stay on the left side of the screen while in the portrait mode; the tabs will shift to the top of the screen.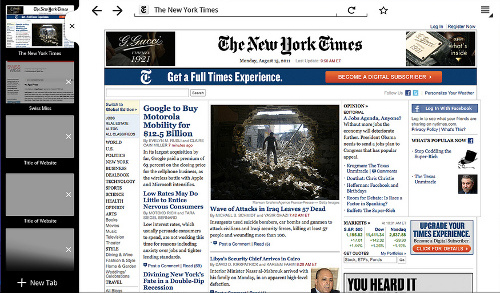 In a blog
post
, Lucas Rocha, a software developer for Mozilla, mentions that the Firefox browser (for Android tablets) version is a very early stage work and hence there are lots of rough edges since the design is continuously evolving.
He also appeals to users to install the version and provide their feedback on it "You can simply install Fennec's nightly build on your Android tablet and give us some thoughtful feedback on the UI. File bugs for the missing bits from the planned design, report interaction problems, let us know about broken bits, etc."
---