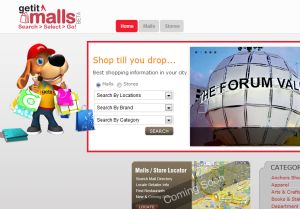 Local search and classifieds company GETIT Infoservices Pvt. Ltd., has launched an online service called Getitmalls.com for searching for malls, shopping deals and offers in cities. The site is still in a beta stage and has limited information currently.
At Getitmalls.com, users will be able to search for the location and contact details of malls and retail stores, as well as specific brands and categories. India has around 350 malls and Getitmalls.com will offer a list of amenities in each mall, listings under each store and promotional offers under various stores and malls in tier 1, 2 and 3 cities. So far the site appears to have information only for New Delhi, Noida, Mumbai, Bangalore, Chennai, Kolkata and Gurgaon. A mall locator using maps appears to be in the works.
Getitmalls.com offers a wide range of categories to choose from – electronics, food, apparel and footwear, home furnishings, jewellery, books and stationery to arts and crafts and toys.
Sidharth Gupta, CEO, GETIT Infoservices Pvt Ltd, said, "Approximately 35-40 per cent of queries that we get through our local search product portfolio are shopping, offer and deal related and store related queries. With our strong backup data support, we will be able to provide a robust and updated information resource."
The website also doubles as a deal site by offering a search for promotional offers and deals. Promotions from shops themselves are also available for users. Currently there are offers from Costa Coffee, jeweller Agni, Pizza Hut, Zodiac Store, Swatch and Olympus Digital Cameras.
This could be an alternative for retailers who are already reaching out to users via daily deal sites such as Snapdeal.com and Mydala.com, but offers an advantage of driving more footfalls. Buyers who are not keen on online shopping will prefer a service that tells them what they need to know before they plan a visit to a mall.
GETIT also plans to launch mobile apps on Blackberry, iphone, Android, Symbian OS based handsets going forth.
---