Yahoo! Inc yesterday introduced a new feature called Yahoo! News friends' activity that assists users in discovering and connecting around the news and information on Yahoo! seamlessly through updates on Facebook.
The feature will be first added in Yahoo! News in the U.S. and IntoNow from Yahoo! (a mobile app to find and discuss TV shows). It will then be incorporated into other media properties across the Yahoo! network and rolled out in additional international markets in the coming months.
"Through our seamless integration with Facebook, we're promoting your friends to the status of social editors on Yahoo!, making it simple to let your friends guide you to more stories, shows, and information than ever before," said Blake Irving, chief product officer, Yahoo!.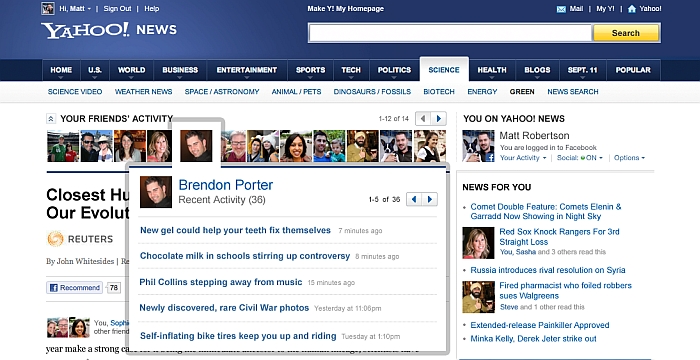 Once you have opted for it, the feature provides:
Control What You Share: Users can see their Facebook friends' and the recent articles they have read. People's activity will also be featured back on their Facebook profile as it happens. Users can easily turn it on and off and delete items.
You on Yahoo! News: Users will have a lightweight dashboard that provides a clear view into their activity.
Your Friends' Activity: It shows Facebook friends and what they're reading on Yahoo! in a new "facebar" at the top of Yahoo! News.
Your Friends' Tab: There is also a tab for friends who have also opted-in for Yahoo! News friends' activity; it displays the articles they have recently viewed.
Also, users can now feature their TV watching activity on IntoNow from Yahoo! on their Facebook profile. This content will appear on people's profiles under 'Most Watched' and 'Most Recently Watched'. They will also be able to discover new content based on their friends' activity.
"People have been sharing links to news articles with friends on Facebook for years. Using our new features, Yahoo! is personalizing the news experience for readers and giving them new ways to express their favourite Yahoo! content on their Facebook profile," said Ethan Beard, director platform partnerships, Facebook.
---