RIM Launches New BlackBerry Curve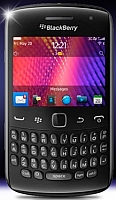 Research In Motion (RIM) has launched a new model of the popular BlackBerry Curve mobile phone code named Curve 9360 in the Indian market. The new device runs on the latest BlackBerry OS 7 and will be available for Rs 19,990.
The mobile phone has a 2.44 inch screen (480x360 pixel resolution) and it runs on BlackBerry's latest operating system called BlackBerry OS 7.0. Unlike the recently launched Bold series from the company, the new Curve does not have a touch screen and only functions via the track-pad and a QWERTY keyboard.
It runs on an 800MHz processor and it has 512MB of RAM which is a significant improvement from the earlier model which had just half the RAM (256MB). The internal memory of the device is also 512MB which can be extended up to 32GB with the help of a microSD card.
The camera has also improved significantly; from 2 mega pixel camera in the earlier model to a 5 mega pixel rear camera with LED flash, but no there is no front facing camera. The camera can also record VGA quality videos (which is a downer since most of the mobile phone cameras nowadays have HD video recording capabilities).
The dimensions of the device are 109mm x 60mm x 11mm and its weight is 99 grams. The device has a 1,000 mAh battery and comes with A-GPS support. The device has 3G and also comes with Near Field Communication (NFC) support (that was absent in the earlier model) which is a good thing since it can connect with other NFC-enabled devices to do anything from sharing data to printing documents.
All in all, the device is an average one, considering you can get your hands on better handsets in the same price range. But if you want to have a taste of the new BlackBerry OS 7 without spending a fortune on the new Bold series (with touch and type), you can opt for this mobile phone.
Comment(s)