Cisco Launches 'Cius' Tablet For Enterprise Segment In India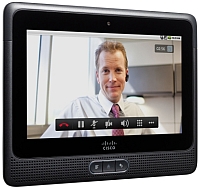 Tablets computers are yet to see wide acceptance in the technology heavy enterprise segment, but all that could change with the entry of Cisco (which has a large presence in the enterprise market) in the Tablet market. The company has launched its own tablet called Cius which is especially targeted towards the enterprise segment in India, according to a PTI report.
The Tablet has a 7 inch display screen and is powered by Intel's Atom processor. It has 1GB of RAM and the internal memory can be expanded up to 32GB, according to Cisco's US site. Additionally, the tablet has a front facing and a rear camera and comes with supports Wi-Fi and 3G/4G.
However, it's not clear if the product with the same specs is to be sold in India or we will see a tweaked up version.
The Tablet will be available for Rs 35,000 or for Rs 50,000 for the Tablet plus a docking station, as per the PTI report. The price of the Tablet is high in comparison to the other tablets available in the market as of now, but then that's like comparing apples with oranges since the Tablet has been made to cater to the needs of enterprises and not the generic user.
Minhaj Zia, Cisco India and SAARC National Sales Manager (Unified Communications) said in the agency report that Cius comes integrated with collaborative applications like web conferencing, Cisco Jabber Instant Messaging, telepresence, email and calendar, which can help colleagues stay in touch with each other.
Comment(s)