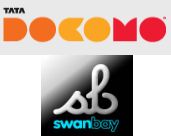 Telco Tata DoCoMo has tied up with UK-based mobile TV company Swanbay to power the video section on its operator deck.
Mediavataar reports that all Tata DoCoMo GPRS users in the country will be able to access free videos using data services.
Swanbay launched in India in November 2010 by tying up with Netcore Solutions, which offers a pre-paid service for SMS alerts and updates called MyToday. It had a partnership with Loop Mobile to launch Mobile TV services before the end of 2010. In India, the firm has an office in Mumbai.
This is the latest of the host of value added services launched by Tata DoCoMo. It recently brought 'Video News Alert', a service that streams video news to 2G and 3G users, with media group Network18. Before that, it announced its users can access Facebook and Twitter through USSD. As of May 2011, Tata Docomo had 1.5 million 3G users.
Mobile TV is growing in popularity due to increasing numbers of budget smartphones and consumers taking to data services both on 2G and 3G. Vamshi Reddy, Co-founder and owner of Apalya Technologies, which is behind MiMobiTV app, said recently in an interview that consumption of mobile TV services per user has now grown 2.5 times this year. The type of content being watched by mobile users is varied - from live events and news to music and movie related videos.
---