Acer Launches Super-slim Acer Aspire S3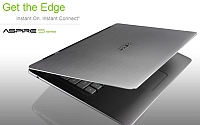 Acer has launched its first Ultrabook (announced at the IFA consumer electronics show) code-named Aspire S3. The laptop integrates the features of both notebooks and mobile devices and according to the company will offer powerful performance and ultra-fast responsiveness, thus enhancing the overall computing experiences of users on the go.
Although the exact Indian launch date of Acer Aspire S3 is not available as of now, the laptop should be priced between Rs 53,000 and Rs 80,000 depending on the configuration selected by the consumer. Let's have a look at its features.
The new laptop has a 13.3 ultra-thin high definition LED screen and runs on the Windows 7 operating system. Acer has provided the users with a choice of processor and they can choose between the 2nd generation Intel Core i3, i5 and i7 processors. Users can also choose between a 240GB, 320GB and a 500GB hard disk drive (HDD).
The laptop comes with Dolby Home Theater v4 (for better surround sound) and has Wi-Fi.  For connectivity, Acer has provided an HDMI port in addition to SD card reader and Bluetooth 4.0+HSR technology. The laptop also has a 1.3 mega pixels camera.
"The Aspire S3 is truly designed to meet notebook users' needs, combining essential features of the smartphone and tablet PC, such as fast start-up and Internet connectivity, with long battery life and a slim form," said Campbell Kan, president of Personal Computer Global Operations, Acer Inc.
For providing additional portability (and giving MacBook Air a run for its money), the Aspire S3 is just 13 mm thin (at its thinnest point) and weighs less than 1.4 kg. It is equipped with a full-size Acer FineTip chiclet keyboard and features a lightweight aluminium/magnesium alloy chassis with a lid that has a fingerprint-free metal finish.
Acer has also included a few additional features like 'Acer Green Instant On' and 'Acer Instant Connect'. According to the company, the first feature lets users put the Aspire S Series to sleep and spring it back to life in less than 2 seconds. Alternatively, users can also choose a time period after which the laptop enters deep sleep (it also happens automatically after 8 hours in sleep mode), which conserves battery life for up to 50 days (without a recharge) and yet when users come back, the laptop turns right back on.
The 'Acer Instant Connect' feature on the other hand enables faster internet access. The company claims that the laptop can last up to 7 hours on a single charge and it features an innovative thermal design that keeps the laptop cool even after continuous use.
There is no doubt that the new laptop from Acer will be a direct competitor of the popular MacBook Air series from Apple. Other competitors will include Sony and Dell who have also launched their own versions of super-thin laptops.
In terms of screen size and weight, both the devices are similar, although Acer has the edge when it comes to the processor since Apple doesn't offer an Intel Core i7 model. Also, in terms of pricing, Acer is much cheaper than the MacBook Air that comes with a price tag of Rs 73,900 for its cheapest 13 inch Air model.
Although since detailed specifications of the Acer Ultrabook are not available as of now, we cannot do a hands-on comparison between the two. But keep track of this space for more.
Comment(s)