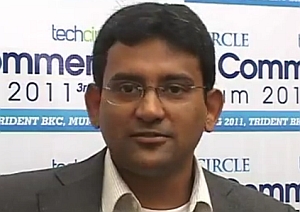 eBay India is the country's biggest online trading community that offers auctions, fixed price and classifieds modes of person-to-person trading, and deals with a wide range of products under an array of categories like technology, lifestyle, collectibles and media.
Muralikrishnan B, country manager of eBay India, joined the company in 2005. He had also been part of the IAMAI (Internet & Mobile Association of India) e-commerce and FICCI (Federation of Indian Chambers of Commerce & Industry) retail committees. In an exclusive interview with Techircle.in, Murali talks about competition, opportunities and the recent e-commerce boom in India.
Right now, everyone is talking about the e-commerce boom in the country. Does it indicate a certain trend or is it just hype?
It's actually a bit of both. Last year, MakeMyTrip made its debut in NASDAQ with close to $1 billion valuation and all of a sudden, it sparked the desire and imagination of hundreds of entrepreneurs and venture capital investors in India. If we have a look at the current scenario, we will find a number of start-ups who are hoping to build the next billion-dollar company, and VCs and other investors are following suit.
The e-commerce market in India has also accelerated. Therefore, to a certain extent, there is a positive traction in the market. But there is also a certain degree of hype and a mini bubble is being created because of all the frenzy around us.
Will Amazon's entry affect the e-commerce sector in India?
If and when Amazon does enter the Indian market, I believe it will only add to the overall growth of e-commerce in India. Globally, Amazon is a renowned player and it features a combination of first party e-tail and third-party marketplace. I don't know which business model it will adopt here but having good players, keen to build long-term, sustainable businesses, will essentially mean positive things happening for the e-commerce market in India.
And that is exactly the kind of competition required to build a large industry that offers a genuine alternative to a shopper who spends his/her time and energy in going to a retail store to make a purchase.
What about eBay's growth in India?
Over the past three years, we have seen phenomenal growth. I cannot disclose the exact percentage but I can tell you that it is a very high double-digit number and pretty soon, we will get into the triple-digit territory. Also, if we look at the transaction velocity, we sell a product every minute.
Also, our growth is accelerating partly due to market growth and partly due to the new initiatives that we keep rolling out over a period of time. For example, we have rolled PaisaPay solution, we are in the process of rolling out logistics solutions and we have also done various integrations with banks and other payment gateways to expand the number of payment options available. We have also enhanced the users' 'search and find' experience by integrating catalogues.
Which payment mode works best in this country?
In the industry, there are two views. Our view is that the best payment method for Indian consumers is online payment. As of now, about 85 per cent of our transactions happen online via credit cards, debit cards and Net banking. Cash on delivery (COD) forms a very small part of our business, but for various other e-commerce players in India, COD accounts for about 50 to 60 per cent of their business. There are also many fundamental challenges that a seller has to face with COD like shipping, returns and depreciation of goods (among others); therefore I personally believe that online payments are the way to go.
Also, the myth that online transactions are not safe still continues in India but it is gradually changing. We have also observed the interest consumers have in using EMI with credit cards. We work with some of the largest credit card issuing banks in India for offering 3 and 6 months EMI facility to the consumers. So for example, if someone is buying a laptop that costs Rs 40,000, it is convenient for them because they can do the transactions online and the amount is automatically charged as 6 monthly instalments on their credit cards.
What are your investment plans?
Our priority areas will be firstly to ensure that we implement the logistics solution which leverages our strength as a marketplace. The second focus area will be building loyalty by providing the right experience and incentives to the customers so that we can build long term value which in turn will help us in building a sustainable and profitable business. Therefore we will continue to invest in that area for the duration of the coming year.
Additionally, we believe there is an opportunity to get entrepreneurs to expand and extend their businesses online and therefore we will continue to invest in seller acquisition to enable offline merchants, retailers and traders to start leveraging the eBay platform. We will also focus on mobile commerce. Last year, through our iPhone, Android and iPad applications (among others), we delivered $2 billion of business on a global level and this year that number is expected to double to $4 billion. So we will take our leaning from there and apply it in India.
Finally, we are also exploring a text message based price check solution. So if a consumer goes to an offline retail store to purchase a product and has doubts about the price of that product, he/she can send an SMS to eBay (which is chargeable) and we will revert back with the best 3 deals available for that particular product on eBay.
Do you feel that an e-commerce player has the potential to become the biggest retailer in India?
I think it is possible. There are a number of reasons for this too, firstly because unlike an offline retailer that faces the constraint of physical real estate, an online e-commerce site has infinite number of branches. Secondly, unlike an offline store, it is open 24 hours a day, 7 days a week. Also, an online e-commerce site has the ability to do retention loyalty marketing because it can capture user information and analyse user purchase patterns.
Therefore, it can target its marketing message in a far better fine-tuned fashion as opposed to an offline retailer. So if you put all these building blocks together, I think it can definitely happen.
But we have to understand that a lot of offline retailers today also have online sites, so it is going to be an interesting tussle. I can't really say when exactly it will happen, but yes there is a possibility that it will happen in the future.
---