Panasonic Launches Next-gen Toughbook In India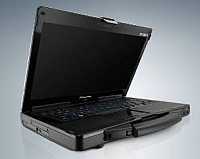 Panasonic has just launched a new Toughbook model CF-53 in the India. The product doesn't get damaged by spilled water and keeps functioning even after being dropped from a height. It will be available in India for just under Rs 1 lakh.
The company claims that the Toughbook can withstand drops, spills, dust and grime and can perform in the harshest environments hence making it the preferred choice for industry segments like, automotive, aviation, telecom and utility (among others).
The Toughbook model CF-53 is a part of the semi-ruggedized range and offers a balance between durability and performance. It runs on the Windows 7 professional operating system, is powered by a 2.5GHz Intel core i5 processor and has a 14 inch LCD screen. It has 4GB of RAM and 320GB of internal storage capacity. Additionally, it comes with 3 USB 2.0 ports, a USB 3.0 port, a Firewire port and an HDMI port.
The device has Bluetooth and Wi-Fi and comes with a touchpad with multi-touch function and a spill resistant keyboard. The company claims that it can withstand a drop of 76cm and it comes with a 3 year limited warranty. The dimensions of the device are 341mm x 48-55mm x 281mm (including carrying handle) and the weight of the device is 2.65kgs. The device has a 6750mAh battery that the company claims will provide users with 10 hours of operating time.
"Starting from the manufacturing industry verticals, Toughbooks have expanded towards a wider audience in recent years. We are aiming at capturing more than 50 percent market share in each target vertical in India," said Amos Tio, general manager, Toughbook Asia Group.
Comment(s)