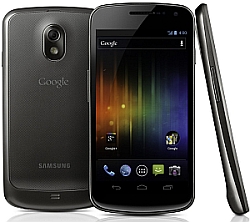 Samsung and Google have finally unveiled Samsung Galaxy Nexus (earlier called Nexus Prime) in Hong Kong. The device is the second mobile phone made by Samsung in direct collaboration with Google, the first being the Samsung Nexus S.
This is the first big offering by the search giant in the mobile phone space since its acquisition of Motorola Mobility Holdings for $12.5 billion (in August) in the form of the first mobile phone to run on Ice Cream Sandwich (ICS), the latest version of the Android operating system.
JK Shin, President and Head of Samsung's Mobile Communications Business said, "We are pleased to deliver the best Android smartphone experience for customers with Galaxy Nexus. We will continue to move forward with Android to provide the compelling consumer experience in mobile world."
We had earlier written about the mobile phone when the exact specifications were not available; here's a look at the official specs, although don't be surprised if you are not highly impressed by them.
Specifications
Galaxy Nexus is the first mobile phone to run on Android 4.0 Ice Cream Sandwich (ICS) operating system. Android is already the most widely used OS for smartphones and tablets and ICS is taking it to the next level since it runs on both tablets and smartphones. Also, ICS brings an entirely new look and feel to Android with a redesigned user interface (UI) that has improved multi-tasking, notifications, Wi-Fi hotspot, NFC support and a full web browsing experience.
The mobile phone has a 4.65 inch Super AMOLED high definition (HD) touchscreen display (1280×720 pixel resolution) that is slightly curved (like the Nexus S display) and offers a much quicker response time than Nexus S. Like we mentioned earlier, the physical buttons have been removed in favour of three virtual on-screen buttons (Back, Home and Recent Apps) located at the bottom of the screen. The Recent Apps button lets users jump instantly from one task to another using the list in the System Bar. The list pops up to show thumbnail images of apps used recently and tapping a thumbnail switches to that particular app.
It is powered by a 1.2GHz dual-core Cortex A9 based processor (not a 1.5GHz processor as rumoured). The device has 1GB of RAM and in terms of internal memory; users will have a choice between a 16GB and a 32GB model.
The mobile phone has a 5 megapixel auto-focus rear camera with LED flash (zero shutter lag and fast shot2shot) that can record full high definition (HD) videos (1080p) at 30 frames per second and a 1.3 megapixel front facing camera for video calling. The camera also shoots in panorama mode. On the connectivity front, the device has Bluetooth, Wi-Fi and Near Field Communication (NFC) and a USB 2.0 port. The device also has a 1750mAh battery that should provide decent battery life.
The company claims that Galaxy nexus will provide a 'pure Google' experience. It features a number of Google Mobile services which include Android Market, Gmail, Google Maps 5.0 with 3D maps and turn-by-turn navigation, Google Earth, Movie Studio, YouTube, syncing with Google Calendar and a redesigned Google+ app. It is also connected to the cloud, keeping users email, contacts and other data synced across their devices.
The dimensions of the device are 135.5mm x 67.94mm x 8.94mm and its weight is 135 grams. Samsung has provided a Hyper-skin backing on the battery cover which the company claims will improve the feel of the device and makes the phone slip-resistant. Also, with a minimal 4.29mm bezel, the mobile phone provides the user with an expansive screen.
Android 4.0 Ice Cream Sandwich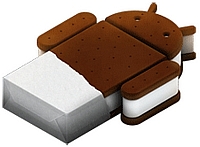 Ice Cream Sandwich comes with an entirely new typeface (Roboto) that is optimized for high-resolution screens. It adds a new look and feel to Android with a redesigned user interface (UI) that has improved multi-tasking, notifications, Wi-Fi hotspot, NFC support and a full web browsing experience.
Ice Cream Sandwich comes with new features like 'Face Unlock' which uses facial recognition to unlock your phone (something that is common in PCs and laptops these days). Additionally, by making use of the NFC technology, Android Beam allows users to share web pages, apps and YouTube videos (among others) with other compatible Android devices by simply tapping the devices together. Users can also use fun effects while shooting video or video chatting with Google Talk.
A new application called 'People app' has been added that enables users to browse friends, family etc, see their photos and check their status updates from social networks like Google+ and Facebook among others.
Some of the other handy features of ICS are:
Home screen folders and favourites tray: New home screen folders lets users group their apps and shortcuts just by dragging one onto another. Also, on smaller-screen devices, the home screen now includes a customizable favourites tray visible from all home screens.
Resizable widgets: Users can embed live application content directly through interactive widgets and since the widgets are resizable, users can choose to expand or shrink them.
New lock screen actions: From the slide lock screen, users can jump directly to the camera for a picture or pull down the notifications window to check for messages.
Quick responses for incoming calls: Users can respond to incoming calls with a text message without unlocking the device or taking the call.
Voice input engine: A new voice input engine offers a continuous 'open microphone' experience and lets users dictate the text for as long as they want, using the language they want.
Control over network data: Based on their data plans, users can optionally set warning levels or limits on the data usage or disable mobile data altogether.
"Ice Cream Sandwich demonstrates the Android platform's continued innovation with one release that works on phones and tablets and everything in between," said Andy Rubin, Senior Vice President of Mobile for Google.
Availability and price
Galaxy Nexus will be made available in the US, Europe and Asia in November and then will be gradually rolled out to other global markets. Samsung has said that separate models with HSPA+ and Long-Term Evolution (LTE) connectivity will be made available in accordance with different regions. The pricing of the device and the exact launch date for India is not available as of now.
Our Verdict
The new mobile phone offering from Samsung is good, but not as good as we expected. It boasts of a 1.2GHz processor when mobile phones with a 1.5GHz processor are already available. Also, although the camera does offer some innovative features the like panorama mode, Samsung should have at least provided an 8 megapixel camera.
The only saving grace is the new operating system from Google. Ice Cream Sandwich is exceptional, to say the least and offers a host of new and innovative features that will no doubt enhance the over-all user experience. The fact that Galaxy Nexus will be the first mobile phone to receive software upgrades and new applications as and when they become available by Google will only add to its acceptance among users.
If you are simply craving for Ice Cream Sandwich from Google, you can opt for Galaxy Nexus, otherwise we suggest that you give this mobile phone a miss and wait instead for the search giant to launch new mobile phones with Motorola in the future.
---