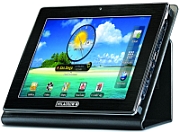 Milagrow Business and Knowledge Solutions, a Gurgaon-based tech-enabled solutions provider for businesses, has entered the Indian tablet market with the launch of 'TabTop PC'. The tablet runs on the Android 2.3.1 Gingerbread operating system and will be available from next week (at select outlets) for a price of Rs 25,000 and Rs 29,500 for the 16GB and the 32GB model respectively.
"Milagrow TabTop PC is the perfect alternative to a desktop, laptop or other tablets for users computing, information, networking and entertainment needs," said Rajeev Karwal, founder & CEO, Milagrow Business and Knowledge Solutions.
Karwal is a veteran from the consumer electronics industry having led Philips' consumer electronics unit besides being the CEO of Electrolux India before the Swedish appliance major sold its Indian business to Videocon group. Karwal also had a short stint at Reliance Retail.
The tablet has an 8 inch multi touch capacitive screen with LED backlit (1024x768 pixel resolution) widescreen HD display which is curious because most of the other companies have opted for either a 7 inch or a 10 inch screen for their tablets (iPad has a 10 inch screen while Galaxy tab's come in both 10 and 7 inch screen sizes). The 8 inch screen size brings the tablet smack in the middle.
It runs on the Android 2.3.1 (Gingerbread) OS and is powered by a 1.2 GHz A2918 cortex processor. The device has 1GB of RAM and comes with a choice between 16GB and 32GB of internal memory.
The Milagrow TabTop PC comes with Bluetooth, Wi-Fi and a built-in 3G module which is compatible with most Indian 3G providers. It also has 2 USB slots, an HDMI port and a SD card port. The device has a 5000mAh battery which the company claims will provide up to 10 hours of battery life. Additionally, the TapTopPC comes with dual cameras (a front facing and a rear camera) and has Live TV capability.
"These TabTops come with over 50 pre-loaded applications for productivity, utility, networking, media, education, women, medical and finance among others," added Karwal.
Set up in 2007, Milagrow provides business solutions for industrial, functional and geographical domains and its 'General Management Consulting Practice' has CEO mentoring as a service for micro, small and medium businesses (MSMEs).
The specifications of the tablet are decent enough considering this is the first tablet offering from Milagrow, although the price of the tablet puts it in competition with the likes of Apple's iPad and the Galaxy Tab. However, as of now the tablet is only available at select outlets (but the company is in talks with retailers for making the tablet available on a larger scale).
---