Rediff has quietly come out with a new product called ZaraBol, a micro-blogging site which literally translates to 'speak a little'. One look at the site and you can understand where it draws its inspiration from. Like a certain site, users of ZaraBol have to follow a 140 character message limit for sharing updates and they can also follow popular topics (#hashtags) or people in general.
Any guesses on where Rediff got all these original ideas for their site; yep, they seem to have drawn inspiration from the popular micro-blogging site Twitter. The trending topics are similar to that of Twitter, the @mentions and also the hashtags (among others). The site also has a similar retweet feature of Twitter in the form of their own feature called Sab Ko Bol. Users can also choose to add images or videos on the site.
Rediff has added a few things like the users can also choose to follow buzzing topics instead of just people. Then there is an 'All' option which displays messages that have been posted by anyone and everyone while a 'Me+I Follow' option displays the messages posted only by the user or by the people/buzzing topics that he or she follows.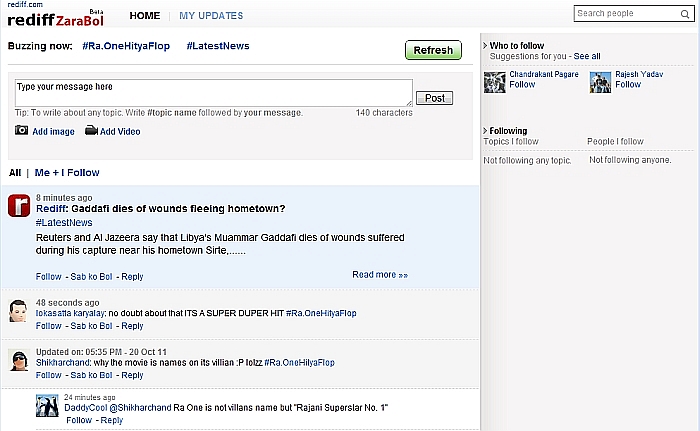 For gaining access to ZaraBol, users require a Rediff account, although if you don't have one you can also sign up on the site directly with your existing accounts (on other sites like Gmail etc).
The reason behind Rediff's launch of ZaraBol is still unclear since clones of existing products hardly work. Whether the micro-blogging site captures the imagination of the Indians (which we hardly think it will) or dies down like so many other clones, is something only time can tell. The biggest problem that Rediff will face is the fact that Twitter is already very popular in India so it is not like ZaraBol will offer something entirely new to the public.
---