Following BlackBerry App, MyDala Launches WAP Site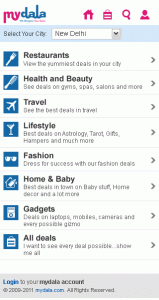 Delhi-based Kinobeo Software Pvt Ltd, which offers online group deals through the website Mydala.com, has launched a mobile Internet site M.mydala.com, which will feature exclusive deals for mobile users. In August, mydala launched a free BlackBerry app, and is now working on more apps. But with the new WAP site, mydala expects to reach out to a vaster audience of mobile users, not just smartphone users. Mydala has five million subscribers, up from three million in August 2011.
The site has few images, which helps when the GPRS speeds are slow. On the landing page, it has seven categories - restaurant, health and beauty, travel, lifestyle, fashion, home & baby and gadgets - plus one for all deals. You can also switch to the deals section which shows the daily deal, hot deals and national deals. The mobile site is full-fledged, allowing users to complete their transactions on the site itself with integrated payment options for credit card, debit card, OxiCash and voice payment. Users can also schedule their buys for cash on delivery.
Here are excerpts from Techcircle.in's quick Q&A with MyDala co-founder and CTO Ashish Bhatnagar on his mobile strategy:
Why have you launched a WAP site instead of more apps? Is it because bulk of your target users do not have a smartphone? Mydala is looking for a comprehensive and complete package on mobile where users can choose which way they would like to access. WAP world is most browser (mobiles) compatible and has a huge user base whom we would like to target and make sure that they have a seamless buying experience on mydala. Mobile has both form of users APP-world and WAP-world and we do not want to miss any of them.
Can you share traction seen on mydala's BlackBerry app - how many downloads have you recorded so far, what are the usage statistics? The mydala app has so far received a good response on BlackBerry without doing any promotion; in total we have received close to 20,000 downloads for that app.
What is the percentage of traffic currently coming in from mobile? A very small percentage of users is right now coming from mobile but we are planning lot of activities (campaigns) around mobile which will help us to get close to one lakh visitors a day on our WAP / APP.
And what are your plans to launch more apps? We are in process of rolling out iPhone and Android apps next.
Other e-commerce sites have also recently stepped up their mobile initiatives. Times Internet (Indiatimes) partnered with Shorthand Mobile Inc to launch an app called SMS Browser, that includes all offerings including daily deals from Timesdeal.com. Naaptol has an Android app. Ebay India launched a mobile Internet site and followed it up with an Android app and a Nokia app, which will be pre-loaded on Nokia C2-03 and C2-05 handsets. Crazeal, Dealsandyou, Fetise and Koovs do not appear to have mobile sites as yet.
Kinobeo recently raised Rs 18 crore in its second round of funding from Info Edge, the BSE listed company behind websites such as Naukri.com and 99Acres.com. The total investment in the company amounts to Rs 28.1 crore – it had raised Rs 9 crore from Info Edge in April, 2011 and Rs 1.1 crore in its series A round of funding from PE veterans Ajay Relan and Jayanta Basu, besides two unnamed US investors, in 2010.
Comment(s)