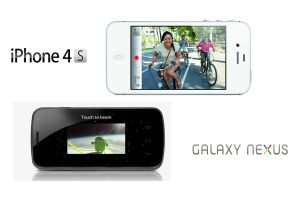 The month of October has been a rather eventful one for technology fans across the world. In the first week, we had witnessed the launch of a new iPhone from Apple called the iPhone 4S. It was immediately followed by the death of Apple's founder, the iconic Steve Jobs. And just a few days ago, the brand new Galaxy Nexus has been unveiled. Incidentally, it is the second mobile phone developed by Samsung in direct collaboration with Google, the first being the Samsung Nexus S.
Both iPhone 4S and Galaxy Nexus have got mixed reviews from tech critics. Although some experts are highly impressed by the new devices, others feel that the new gadgets fall short of expectations (Check out our take on the mobile phones: Apple's New iPhone 4S: Is It Too Little, Too Late? ; Samsung's Galaxy Nexus Disappoints; Google's Ice Cream Sandwich Smells Good). But whether you love them or hate them, you would still want to get your hands on them.
And that brings us here – a comparison between the two gadgets to determine which one has emerged winner in the battle of the titans. Till date, we have not been able to access these devices for real world specifications testing. Therefore, our review will solely be based on device specifications.
Operating System
Let us start with the operating systems of the mobile phones. The iPhone 4S runs on Apple's iOS 5 that offers new features like an updated Notification center, bringing all your updates to one location; iMessage that enables unlimited messaging (text, pictures and videos) among iOS 5 users via Wi-Fi or 3G; reminders; photo edits (you can crop, rotate, enhance and remove red-eye from pictures directly on the mobile phone); Twitter integration and camera enhancements (you can access the Camera app right from the Lock screen).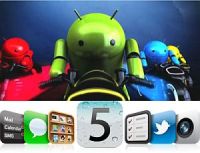 Additionally, iPhone 4S also comes with iCloud and Siri, the in-built voice recognition software that helps users get things done via voice commands. You can use Siri for making calls, sending text or e-mail messages and getting directions, among others.
Galaxy Nexus, on the other hand, is the first mobile phone to run on Android 4.0 Ice Cream Sandwich (ICS) operating system that comes with a host of new innovations such as an entirely new typeface (Roboto), optimised for high-resolution screens. Also, a redesigned user interface (UI) in ICS comes with improved multi-tasking, notifications, Wi-Fi hotspot, NFC support and a full Web browsing experience.
ICS also comes with new features like Face Unlock, Android Beam (which allows users to share stuff with other compatible Android devices by a simple tap) and People app (an application that enables users to browse people and check their profiles on social networks like Google+ and Facebook, among others). Other cool features of ICS are home screen folders and favourites tray, resizable widgets, new lock screen actions, quick responses for incoming calls, new voice input engine and control over network data (users can set warning levels or completely disable mobile data usage).
Since we haven't had a chance to play with the new ICS OS, we cannot determine a clear winner here, but it does seem that the ICS has a lot more to offer than iOS 5. Although when it comes to the range of applications available for the mobile phones, iPhone 4S is the clear winner.
Display
Apple has decided to stick to the same 3.5 inch widescreen multi-touch display (960x640 pixel resolution at 326 pixels per inch) in iPhone 4S as was originally used in the iPhone 4. Galaxy Nexus, on the other hand, offers a 4.65 inch Super AMOLED high definition (HD) touchscreen display (1280×720 pixel resolution at 315ppi) that is slightly curved. Although Galaxy Nexus wins big on the screen size (a difference of 1.15 inch) and pixel resolution, the iPhone 4S still scores on pixels per inch (326ppi in comparison to Nexus's 315ppi).
So in this case, it is largely a matter of choice. Some of us are quite comfortable with a smaller screen that displays crisper images while others want a bigger screen for better viewing.
Processor & RAM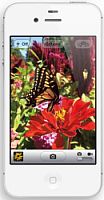 Galaxy Nexus is powered by 1.2GHz dual-core ARM Cortex A9 CPU TI OMAP 4460 processor and has 1 GB of RAM while the iPhone 4S is powered by 1 GHz dual-core ARM Cortex-A9 CPU, PowerVR SGX543MP2 GPU processor and has 512 MB of RAM. Therefore, on paper, Galaxy Nexus is the clear winner in terms of processor speed and RAM, but this can only be confirmed once we have tested both the devices.
Internal Memory
Apple has the consumer spoilt for choice with 16 GB, 32 GB and 64 GB models, as far as internal storage is concerned. Samsung has not been so considerate and the 64 GB model is missing from its inventory. Overall, 32 GB of internal storage is good enough for a mobile phone but in terms of comparison, we will have to give this round to iPhone 4S.
Camera
Galaxy Nexus comes with a 5 megapixel auto-focus rear camera with LED flash (zero shutter lag and fast shot2shot) that can record full high definition (HD) videos (1080p) at 30 frames per second (fps) and a 1.3 MP front-facing camera for video calling. The camera can take panoramic pictures and offers a 'silly faces' feature which is similar to Apple's Photo Booth application, courtesy the new ICS OS.
The iPhone 4S has an 8 MP auto-focus camera with LED flash (image stabilisation and face detection and a new custom lens and a larger f/2.4 aperture) that can also record full HD videos (1080p) at 30 fps and a front-facing VGA camera for video calling. The camera also offers video stabilisation for better videos. However, Galaxy Nexus definitely wins when it comes to providing more innovative features. But if you come down to basic photography, iPhone 4S wins again.
Battery Life
The iPhone 4S has a 1420mAh lithium polymer (Li-Po) battery and Apple claims that it will offer up to eight hours of talk time on 3G, up to 14 hours on 2G and stand-by time of up to 200 hours. On the other hand, Galaxy Nexus has a 1750mAh lithium ion (Li-ion) battery but Samsung has not made any claim as far as the battery life is concerned. However, Galaxy Nexus has a much bigger screen, which will definitely drain the battery much faster, and iPhone 4S will be the clear winner in this space.
Dimensions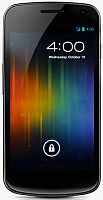 While the iPhone 4S measures 115.2mmx58.6mmx9.3mm and weighs 140 gm, the Galaxy Nexus measures 135.5mmx67.9mmx8.9mm and weighs 135 gm.
Although we cannot deny that the look and feel of the iPhone 4S is classier than Galaxy Nexus, there can be no comparison here. It is mostly a matter of choice – some people want a bigger screen like that of Galaxy Nexus (4.65 inch) while others are happy with the one offered by iPhone 4S (3.5 inch). But here is a plus for Galaxy Nexus. Although it is significantly bigger than the iPhone 4S, it is still lighter than its rival.
Price & Availability
The iPhone 4S comes in either black or white and is available in seven countries as of now. It will be available in another 22 countries from tomorrow and 70 more countries (we do hope that India will be among them) by the end of the year. The price of the iPhone 4S in the USA (with a contract) is $199 (around Rs 9,500), $299 (around Rs 14,000) and $399 (around Rs 19,000) for the 16 GB, 32 GB and 64 GB model, respectively. In India, the price of the device should be similar to that of the iPhone 4.
Galaxy Nexus comes in black and will be made available in the USA, Europe and Asia (India should be included) around November 14. Then it will be gradually rolled out to other global markets. Samsung has said that separate models with HSPA+ and Long-Term Evolution (LTE) connectivity will be made available in accordance with different regions. The exact pricing of the device is not yet available but it will definitely be Rs 30,000-plus.
Our Verdict
The clash of the titans is over and although it has been a very close fight (with each party giving its 100 per cent), iPhone 4S has emerged the winner. For one, the Android ICS OS is not an exclusive feature of Galaxy Nexus, as it is the case with Apple's iOS 5. Moreover, Samsung has already marketed more powerful devices and that has certainly hindered Galaxy Nexus's chances of winning the battle.
---