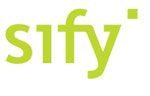 NASDAQ-listed Indian Internet and IT firm Sify Technologies has witnessed 20 per cent drop in sequential consolidated revenues to $37.1 million in the quarter ended September 30, 2011, compared to the three months ended June 30, as its biggest unit 'enterprise' business saw almost 25 per cent decline in revenue over the previous quarter. The firm's revenues rose 5.7 per cent over the same quarter last year, boosted by higher revenue from enterprise, as well as software services business.
The company saw revenue from its enterprise services division rising 7.5 per cent year-on-year while revenues from its software services division Sify Software rose 22 per cent year on year.
"Our enterprise business continues to gain traction, supported by domestic growth in the corporate segment and a renewed spending environment," said Raju Vegesna, chairman & MD of Sify Technologies. "The overall outlook for growth in India is positive and we continue to invest in expanding our network, data centres and other infrastructure tools. Our network and data centre expansion and commissioning of cable landing station are proceeding as per plan. We remain very positive on the outlook for ICT services in India, which is supported by favourable regulatory trends. The proposal to allow Voice-over-IP (VoIP) domestically in India also provides new opportunities for data-focused operators such as Sify," he added.
What is worrying, however, is the poor performance of its commercial & consumer business segment that houses broadband home access and the ePort cyber café chain besides the consumer Cloud platform and the portals Sify.com and Samachar.com. This unit saw lower revenues both sequentially, as well as over the same quarter last year.
But a sharp fall in sequential revenues was offset by sharper drop in expenses that boosted EBITDA over the previous quarter ended June 30 by 35 per cent to $3.33 million. EBITDA also tripled over the year-ago period, reflecting better cost control.
An improvement in capacity utilisation in the quarter ended September 2011 has ensured that the remaining Sify cash flow remains positive. MP Vijay Kumar, chief financial officer of Sify Technologies, said, "While our new capital expenditures continue to exceed operating cash flows as we continue to invest for future growth, it is important to note that our capacity utilisation has improved during the quarter. There has been an improvement in gross margins, owing to increased engagement with customers and rollout of several value-added services."
As a result, despite lower revenues over the previous quarter, Sify pruned its consolidated net loss to $1.39 million from $1.91 million in the previous quarter. Losses have almost halved from $2.74 million recorded in September 2010.
Quarter Financial Highlights
Enterprise business: Despite strong pricing pressures, Sify's network services division, a part of its enterprise business unit, registered a growth of 18 per cent over the last quarter. The international long distance (ILD) business registered 704.5 million minutes for the quarter, up from 680 million minutes in the previous quarter.
Sify launched an audio conferencing service and its hosting business registered 77 per cent growth over the quarter ended June 2011 while Cloud services business has doubled year-on-year. Within IT services, the company's security services have approximately doubled, compared to the previous quarter.
Commercial & Consumer: Sify has noted that the number of new SOHO/SMB users for its pre-paid broadband connections has grown 60 per cent in the quarter. This has slowed down from 75 per cent base growth last quarter. Incidentally, over 55 per cent of the new users are from tier II and tier III towns.
However, there is no update on the increase in the number of outlets of My-Life, Sify's retail broadband chain. Its flagship website Sify.com saw the launch of health and technology channels and its sports section drew users. In the quarter, the website registered 3.02 million visitors, up 19 per cent year-on-year.
Sify software services: Sify's skills assessment and e-learning solutions continue to gain ground with three new large accounts, including one of the world's largest pharmaceutical companies, added in the quarter for its e-learning business. It has also partnered with a leading US-based learning and consulting solutions provider to launch a mobile app.
Sify's iTest solution grew by 58 per cent over the previous quarter. The pipeline now includes an iTest platform for BPO/govt. segment and version 11.0 for SLEMS for its messaging offerings.
Sify's enterprise applications services division grew by 14 per cent over the previous quarter and 53 per cent over the same quarter last year.
---