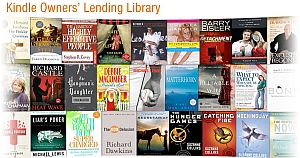 Amazon.com, Inc. has announced the launch of the Kindle Owners' Lending Library (KOLL). With the KOLL, a Kindle owner with an Amazon Prime membership can choose from thousands of books to borrow for free (including over 100 current and former New York Times bestsellers) as frequently as a book a month, with no due dates. Additionally, if you happen to have an annual Prime membership, the KOLL is included at no additional cost.
The cost of an annual Amazon Prime membership is $79 (approx Rs 3,900) and customers have a choice of taking a one month free trial before finally enrolling for the membership. India is also mentioned in the list of countries that can avail the membership. Also, a selection of the Kindle e-reader is available for purchase for a price starting from Rs 8,269 on online sites like Indiaplaza with a delivery time of 15 days.
KOLL offers access to a wide range of categories and genres in both fiction and non-fiction. Also, titles in the KOLL come from a range of publishers under a variety of terms. For most of the titles, Amazon has entered into agreements with publishers to include the titles for a fixed fee although in some cases, Amazon is purchasing a title each time it is borrowed by a reader.
Jeff Bezos, Founder and CEO of Amazon.com said "Today, we're introducing a new Prime benefit built for Kindle: The Kindle Owners' Lending Library. Prime Members now have exclusive access to a huge library of books to read on any Kindle device at no additional cost and with no due dates."
Books can be borrowed from a Kindle device but customers can only have one book at a time, although if someone wants to borrow a new book, the borrowed book can be returned right from the device. Also, the reader's notes, highlights and bookmarks in the borrowed books will be saved so that they will have them later if they decide to purchase or re-borrow the same book.
"With this launch, we expect three immediate results: Kindle owners will read even more, publisher revenues will grow, and authors will see larger royalty checks." said Russ Grandinetti, vice president, Kindle Content.
Amazon had earlier entered the Tablet market with its first Tablet offering in the form of Kindle Fire. The e-commerce leader also enabled it's AppStore for Android users in India and is reportedly looking at ways to start its e-com business in the country.
---