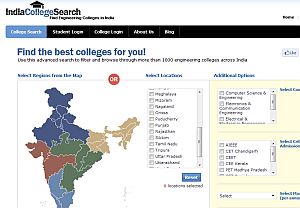 Delhi-based AM Edumedia Pvt Ltd, which runs IndiaCollegeSearch.com (a website helping students pick the right engineering colleges among thousands), has raised its first round of funding from Delhi-based boutique investment firm VAS Capital. Promoted by a group of Indian investors, VAS Capital has infused Rs 58 lakh in the start-up for 32 per cent stake.
The deal values the one-year-old start-up at Rs 1.8 crore.
IndiaCollegeSearch.com was incubated by the Indian Angel Network (IAN) in April 2010 and launched its operations in October last year. As of now, the company records 50,000 searches per month on the site. The current funding will be used to rev up aggregation of information on Indian colleges and to roll out premium features including analytics and featured listings.
Raveesh Malhotra from VAS Capital has joined IAN's Vikram Kant Upadhyaya (the start-up's chief mentor and board observer), on the company's board.
"Our investment is driven by the impressive founding team and the size of the market it is targeting. Although IndiaCollegeSearch.com is free for students and does not feature ads, it has a solid revenue model," said Raveesh Malhotra, managing director of VAS Capital. Incidentally, VAS Capital is a sector-specific investor, specialising in education and healthcare.
The Site
IndiaCollegeSearch was launched by Anirudh Motwani (CEO) and Parul Bansal (CFO), who went through the process of collating information on various courses and branches when they joined college.
"We did not get the branch and the course we wanted. There's contact information online but there was a gap of relevant and critical information, such as placements and previous year's cut-offs. But that's what students really need. Now, we want to help students make more informed decisions about the colleges they join," said Anirudh Motwani, co-founder and CEO of IndiaCollegeSearch.
Using this site, one can easily search for fees, cut-off criteria, placements, courses, locations, college infrastructure and faculty. The site also showcases profiles of top institutions. Search is free for students and does not require registration. After searching, registered users can select a college for shortlisting or apply directly to the institution of their choice. The website currently offers information on 1,000 engineering colleges across the country.
While IITs and NITs are still the most popular institutes searched on the site, the upper strata of private engineering colleges are now being researched by many students, according to Motwani.
"In India, over one crore students enter college every year. Over 97 per cent of them do not end up at the college they had planned for. Alternatives are chosen with advice from friends and family, rather than factual information," he added.
Starting Up
Motwani graduated from BITS-Pilani and worked at Cvent, Inc. as a software product consultant while Bansal was a wealth manager at the Aditya Birla Group. The two friends began market research on education in January 2010 and earnestly started working on the site from April 2010. "We were managing frugally and were completely bootstrapped," said Motwani.
Shortly after that, IAN incubated the start-up and acquired 4 per cent stake in it, of which a little more than 2 per cent is owned by Upadhyaya. Upadhyaya's strategic advice helped the duo in crafting a resource map with important contacts in AICTE and UGC that could help increase credibility of the site's information. In six months, the website was launched.
Under the hood of IndiaCollegeSearch.com, lies a search algorithm developed by Motwani. The start-up filed for the algorithm copyright in January this year. The algorithm in this case uses two factors to comb through colleges – quality (according to a tier-system determined by the company) and popularity (it is determined in real time by the number of views a college receives). "Right now, the focus is on students – what they need, what they can use," said Motwani.
The website is undergoing a major overhaul, and is scheduled to re-launch in December with a new business model, information on more colleges and other premium features. Of the 1,000 colleges in its database, 500 are actively reaching out to students using IndiaCollegeSearch.com. Next, the site will add 1,500 MBA colleges and also double the number of engineering colleges in its database.
Business Model
IndiaCollegeSearch will use a combination of broad-based analytics and listings to generate revenue. And these two features will be rolled out by year-end.
Analytics will enable institutions to understand students' demands even better. "Colleges are in the dark about what courses students want. For example, many of them recently added IT courses to their curriculum and had to shelve them when they didn't get the required number of students. Analytics will help them target the students better," explained Motwani.
The featured listings functionality has been built and is in the trial stage. However, the firm wants to build up traction on the site and get more colleges to use it before launching it commercially.
The Market
There are many websites catering to the education segment – from NoPaperForms.com and CollegeAdmissions.in for admission to Shiksha.com by Info Edge India Pvt Ltd (that runs Naukri.com and 99Acres.com) and Meritnation.com (learning solutions for the K-12 segment) and Minglebox.com.
On the other hand, CoCubes.com is in the placement space, connecting some 2,000 colleges to 300 companies in India and has a run rate of Rs 20 crore in revenues (targeted for fiscal 2011-12). Recently, simulation e-learning start-up Sparsha Learning Technologies raised a seed round from Blume Ventures and Tempus Capital while a social learning firm called Eduora Technologies raised funds from Seeders Venture Capital.
However, Motwani points out that the market is still very fragmented. "There are a lot of companies in the online education space, especially in the placement space, which has started maturing. Larger set-ups like MonsterCollege.in and CoCubes.com are helping college students when it comes to placement. Universities like IGNOU are also moving online," he said.
According to his estimate, Google still leads in online advertising for higher education with five per cent of the market share. Parul Bansal, CFO of IndiaCollegeSearch, believes that the total addressable market is around Rs 100 crore per year and that online marketing by colleges in India is growing rapidly. So there is space for more start-ups and newer business models who can aid Indian universities in adopting online processes and simplifying the lives of students.
---