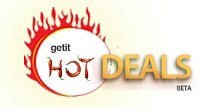 GETIT Infoservices Pvt. Ltd., a local search and classifieds company has launched a new Hotdeals website that will provide deals to customers across categories. Users can access Hotdeals through either the website or by simply by calling CallGETIT 24x7 on 4444-4444 from any city in India.
The basic functioning of the site is similar to any other deals site. Users have to first select the city they want the deals in and then they can search for deals available in that particular city. Once they find a deal of their liking, they can download the coupon either via email or via SMS. This coupon is then presented at the retailer/establishment to avail the discount (users not necessarily have to carry printouts; they can also redeem the deal by carrying the deal coupon as an SMS). The site has coupons for discounts on restaurants, spas, car servicing, household goods, holiday packages, computers and furniture, among others.
The company claims that their site is different from other daily deal sites because unlike other deals sites, users don't have to make any online purchases on GetitHotDeals.in. The site is free of cost and has a large selection of deals to choose from. Users also have the option of subscribing to the site (by providing their email id) and once subscribed, they can start receiving new deals on a daily basis.
Also, the deals will feature across GETIT's network so if you are searching for anything on the local search site (getit.in) or on the classifieds site (freeads.in), you will be prompted with relevant deals related to the product being searched.
Since the website is free for users, the company will generate revenues through an ad-funded model, which basically means that advertisers on the website will pay according to the visibility they want on the site. So if an advertiser wants their deal to be given prime preference on the site in terms of visibility and focus (on the website and their Facebook page) they will have to pay for it accordingly.
"Most shoppers love discounts and coupons. We have introduced this simple site wherein users can find deals on whatever they are looking for. It works well for our retail clients too since it brings them a steady stream of new customers," said Sidharth Gupta, CEO, GETIT Infoservices Pvt. Ltd.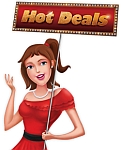 The company has also introduced 'Hotty', a mascot for HotDeals. They have also made a Facebook page dedicated to the mascot where Hotty serves Hotdeals to people who visit the page. Last when we checked, the page already had more than 6,000 Likes.
Although the company claims that the site has thousands of deals in various categories, for respective cities, last when we checked only a limited amount of deals was available. Moreover, some of the categories had just one or not even a single deal available. The other daily deals sites in the country include Mydala, SnapDeal, Crazeal, Aajkacatch, and Dealsandyou.
The company had earlier launched an online service called Getitmalls.com for searching for malls, shopping deals and offers in cities.  They also collaborated with California-based Shorthand Mobile, Inc to launch a new GETIT SMS App and launched a local search application for iPhone users in India.
---