Digital Cable TV Versus DTH: Which One To Go For & Why?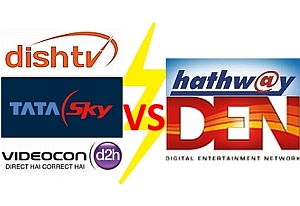 Till now it has been a no-brainer what you need to have for home entertainment. On the one hand, there is the Direct-to-home (DTH) service ensuring sharp picture and voice quality, giving you the power to choose the channels you want and even offering interactive elements such as video-on-demand and gaming. On the other hand, you have the analogue cable television with poor reception and a whole bundle of channels you never want but have to pay for.
Indeed, there is another technology called IPTV where your broadband Internet service provider allows you to access television channels. But then, they never hard-sell and a large section of consumers don't even know what it is all about.
But all that is about to change. Well, at least a part of it.
With the cable television digitisation ordinance for amending Section 4A of the Cable Network (Regulation) Act getting approved by the President, it will be soon 'bye bye analogue cable TV.'
As far as the industry is concerned, the digitisation process will make the local cable operators toe the line instead of the current practice of under-declaring the number of subscribers and thus profiting at the broadcasters' expense. It will also lead (and is already leading) to consolidation in the industry as small-bit cable operators may not have the finance to purchase the equipment required to beam digital cable signals. In other words, it is not only another choice for Indian consumers, but also leads to the cable operators becoming more of an organised business. Already multi-system operators (MSOs) – large cable operators such as DEN Networks and Hathway – have brought many of the smaller operators under their fold, thereby leading to business consolidation. A more organised cable industry means more tax collections for the government too, which currently leaks out as no one can make out what the small cable operator in a distant town is earning.
The digitisation process will be carried out in four phases, starting with the digitisation of four key metros – Mumbai, Delhi, Kolkata and Chennai – by March 2012. The rest of the country will be covered by December 31, 2014. This means in five months from now, you would have some form of set-top box (STB) sitting along with your television for you to access channels as the existing analogue cable networks will be banned starting with the top four metro cities. This would be either an STB linked to the dish antenna of a DTH operator or an STB linked to existing cable wires that comes to your house.
If you already have a DTH service, it may not interest you much. But there are millions who still have the age-old cable network at home and they need to decide soon whether to switch to DTH or upgrade to digital cable. So let us have a close look at both the options.
Direct-to-home (DTH) Wins Hearts?
DTH service provides ensure superior picture quality in the first place and with the introduction of high definition (HD) channels, viewers have a lot to gain from this service. Plus, you have the freedom to select the channels you want to watch and pay only for those. For instance, a typical North Indian may not like to subscribe to watch regional channels from the South (because of the language barrier) and similarly a South Indian may not be keen on subscribing to Hindi language channels.
However, there is more to it, in terms of consumer freedom. As a subscriber, you have complete control over your profile and you can easily exercise the power of your choice. In other words, you can add more channels to your list (for a fee, of course), modify them or even delete them from the list without calling up the operator every time. Additionally, the interactive features provided by DTH operators in the form of video-on-demand, games, quizzes, puzzles, paid shows, etc., are also a big attraction. All these make DTH a formidable opponent of the existing cable TV.
Salil Kapoor, chief operating officer (COO) at Dish TV India Ltd. believes that although the digitisation process will definitely help improve the quality of content offered by MSOs and local cable operators, DTH operators already have a substantial lead over them in that department. Add to the fact that the back end work required on the part of the cable operators for implementing the process is huge and will take a lot of time.
"DTH operators have a large customer base and are well established and positioned in the Indian market. In terms of services, we are already providing high definition (HD) channels to our viewers. We also offer additional services like a Job portal (in tie up with Monster.com) and a financial portal (in tie-up with ICICI bank)," said Kapoor.
Another advantage of DTH is that customers have the convenience of selecting their mode of payments. They have the option of buying a recharge coupon, getting a recharge done from a local dealer or they can simply make online payments. While in the case of cable operators, the payment mode is mostly limited to cash payments made to the operator directly. So in the case of DTH, the power of selecting the mode of payment rests in the hands of the consumers.
But the DTH service is not without its fair share of woes. Consumers often complain that the dish antennas frequently malfunction during the rainy season and consequently, the transmission suffers. Otherwise, too, those antennas cause a lot of headache as they have to be placed outside the houses/flats and that may not be an easy proposition. There are societies in Mumbai that do not allow members to take DTH connections as the antennas spoil the overall look of the buildings. Other metros are more lenient but the quality of transmission remains an issue when the weather is bad.
Then, there is the service issue that plagues all and sundry. Sometimes large DTH companies may take up to a week to fix a complaint you have lodged. Also, once the due date for the monthly renewal passes, DTH operators shut down the service until the payment is made. This means keeping a tab on the billing date and paying on time, every time, if you are not fond of TV blackouts.
There are presently seven DTH operators in the country including Dish TV, TataSky, Airtel Digital, BIG TV, Sun Direct, Videocon D2H and Doordarshan Direct Plus.
A Close Peek At Digital Cable TV
So what changes with digitisation? Unlike the traditional analogue TV, digital cable TV can actually beam similar superior picture quality provided by DTH operators. Moreover, it can also bring home the HD channels (just like DTH). Therefore, even in terms of premium picture quality, they happen to be equals.
Digital cable TV will also bring interactive elements. "We can provide all interactive services that a DTH operator offers. Moreover, you get to see local events like Satsang sessions or exhibitions or even festival coverage including Ganesh Chaturthi and Janmashtami in Mumbai," said Ravi Singh, vice-president of Cable Operators & Distributors Association of Mumbai. "In addition, local operators can provide up to 1,000 channels if required but as of now, DTH operators are nowhere close to that number." However, since the availability of channels depends on the amount of bandwidth the operator has, DTH operators can very well match that number.
Singh has also pointed out that local cable operators can provide Internet services and if you have a Smart TV, you can access the Net directly from your television set. But even if you don't have one, you can still make use of the Net connection for your desktop or laptops. Since local cable operator can provide both (digital cable TV and Internet services), that will save consumers the trouble of getting a separate Internet connection.
According to Rajnish Dixit, general secretary and spokesperson of Bihar Cable Operators Association, digital cable TV definitely has the upper hand. "Local cable operators can also tie up with local retailers and offer additional facilities like shopping-via-television. For example, if a viewer in Patna wants to buy products from a local retail outlet (like Big Bazaar); he/she can view the retailer's catalogue on TV and order the goods accordingly. The product/s will be delivered at the doorstep and the customer can pay cash on delivery (COD)," explained Dixit.
Also, those opting for DTH service are often plagued by the billing timeframe. Once the due date for monthly renewal passes, the service is automatically discontinued and it does take some and effort to get it back. But when it comes to local cable operators, viewers mostly pay as per their convenience (quite possible if you have a good rapport with your operator). But this practise can also lead to a number of defaulters which in turn affects the revenues of the operators.
As consumers are directly in touch with their cable operators, complaints are quickly dealt with and the problem of time lag is extremely rare. Finally, there is no need to install a dish antenna and your home can still retain the quaint charm, unspoilt by metal sticking out of balconies and rooftops.
Here's a table comparing the two services:

Our Take
Although the deadline is set for March 2012, many of the local cable operators are already offering digital cable TV (in fact some consumers also have digital cable as the project had once started but failed a little less than a decade ago). A local cable operator in Malad (Mumbai) offers a set-top box (a necessity for digital cable TV) for Rs 1,100 plus a monthly membership charge of Rs 350. A total of 160 channels are available if you opt for the membership.
As of now, you don't get that much-touted pay-for-only-what-you-want facility in this case, which essentially means viewers must subscribe to a minimum number of channels. But this is likely to change with digitisation and that would bring channel packages to digital cable, just like it is with DTH.
Although both services have their good and bad points, we reckon digital cable TV has the potential to overtake DTH in the long run, but we can only give a verdict once we have tested both the services first hand (after all, it finally boils down to the price and quality of service). Also, let us not forget that the digitisation process will require a lot of backend work (such as importing large quantities of set-top boxes and their distribution) on the part of local cable operators and one would have to wait and see how digital cable operators match up to DTH firms in terms of after-sales services.
Add to that the disheartening fact that the earlier attempts at digitisation (made by the government in 2002 and 2007) had failed, leaving the consumers disappointed. Let us just hope that it will be third time lucky and we will not fail to arrive this time.
Comment(s)