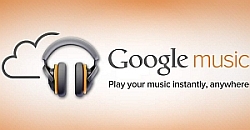 Google, the search giant has finally launched Google Music, an online music store that allows users to discover, purchase, share and enjoy digital music. The company has also added a new music store in the Android Market that is fully integrated with Google Music. Google had earlier launched Music Beta by Google (along with the latest Android OS Ice Cream Sandwich) at Google's I/O 2011 conference in May, 2011.
As of now, Google Music is open in the US at market.android.com and over the next few days it will be rolled out to the Android Market on devices running Android 2.2 (Froyo) and above. Users can also get the new music app (for mobile phones and Tablets) from the Android Market.
The Service
Users can either purchase individual songs or entire albums right from their computers or Android devices. The purchased songs are instantly added to the users Google Music library and they can be accessed anywhere. Users can also share a free 'full play' of a purchased song with their friends on Google+.
Also, Google Music automatically syncs the user's entire music library, both purchases and uploads (users can upload up to 20,000 songs) across all their devices, hence solving the problem of file transfers and storage space. The user's playlists are also kept intact and they can select specific artists, albums or playlists they want to listen to even when they are offline.
The company's music store in the Android Market offers more than 13 million tracks from artists on Universal Music Group, Sony Music Entertainment, EMI and the global independent rights agency Merlin as well as over 1,000 independent labels that include Merge Records, Warp Records, Matador Records, XL Recordings and Naxos. Google has also partnered with leading digital distributors of independent music including IODA, INgrooves, The Orchard and Believe Digital.
The company is also offering exclusive music content (some of it free of cost) from artists like The Rolling Stones, Coldplay, Shakira and Pearl Jam, among others, to woo in customers. Additionally, the company has also come up with a Google Music artist hub that allows artists (who have all the necessary rights) to distribute their own music on Google's platform and use the artist hub interface to build an artist page, upload original tracks, set prices and sell content directly to fans. The artist hub can be used by new artists as well as established independent artists.
The Competition
Google's competitors in the market will include Apple Inc, Amazon and Spotify. However, its biggest rival will no doubt be Apple Inc's iTunes Music store that is currently the world's no. 1 music store. Google and Apple have already been battling it out for dominance in the smartphone segment with Google fast closing in on Apple's iOS lead with its own Android mobile operating system. But many are sceptical on whether it will be able to replicate its success in music too.
Apple's iTunes store has been around for a while now (eight and a half years to be exact) and has already sold more than 10 billion songs (as of Feb, 2010). So it will take Google a long time just to narrow the lead between the two, leave aside surpassing the competition. And the company will have to innovate majorly and come up with new enhancements and additions at regular intervals just to remain in the minds of its customers.
The Indian connection
As of now, iTunes Store purchases and the Apple Online Store are not available in India, although there are a few apps (free and paid) available on the iTunes store that allow users to listen to popular Bollywood songs. This is because Apple is primarily focused on western countries when it comes to music.
The Google Music service has also not been made available for India as of now. When we tried to access the service, a message displayed on the screen that read 'We're sorry, the document you requested is not available in your country'. But the company does provide its users with a free Hindi music listening experience in partnership with its partners (Saavn, In.com and Saregama). So probably when the Google Music service is finally launched in the country, we could expect India specific Bollywood content to be made available by the company.
Also, once the service is launched, maybe the upcoming artists in the country can use the artist hub as a platform to connect with fans, promote their songs, get exposure and even sell their albums online.
---