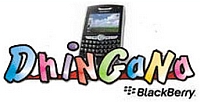 Dhingana.com, a social music streaming service, has launched a new application for listening to Indian music including Bollywood fare on BlackBerry handsets (the company had launched the beta version of the BB app last month). The app is free and can be downloaded from the BlackBerry AppWorld.
As of now, the company's music collection includes more than 2,50,000 songs across 34 genres and the company claims that it offers the latest Bollywood songs 7-10 days before they are made available on CDs.
"We found that a large number of our users on BlackBerry were using the mobile web browser to access Dhingana. That is why we decided to develop a BlackBerry application since native applications make it a lot easier to interact and consume information for customers," said Snehal Shinde, co-founder & CEO, Dhingana.com.
Launched in February 2007 by twin brothers Snehal and Swapnil Shinde, Dhingana today has a collection of songs across 34 different genres that come free to users. The company is headquartered in Sunnyvale, California and also has offices in Pune, India.
With the app, users can create, save and share their playlists with their friends via Facebook, Twitter, BlackBerry Messenger (BBM), Email or SMS. Also, since the playlists are saved on Dhingana.com in real-time, users can instantly access them from multiple devices like their phones, iPods, PCs and tablets. The app also comes with a recommendation feature which suggests relevant music to users based on their previous music preferences.
Users can choose to access popular playlists created by the Dhingana community or they can also tune in to the 'Top 50' songs (from 34 different languages). The company already offers similar apps on the Android and the iOS mobile operating platform.
Although 'Gane Shane' also has a Hindi music app in the BlackBerry AppWorld, it is not free of cost like the Dhingana app and costs the user $1.99 (approx Rs 95). But the Android Market on the hand is filled with free of cost apps similar to Dhingana, some of which are Hindi Songs & Bollywood Music (by Desimusicapp), Saavn Music (by Saavn), Hindi Songs- Bollywood Music (by A-Z Internet Solutions) and Latest Bollywood Songs (by Xlratech Software Solutions), among others.
---