Why We Forayed Into E-Com: Keshav Bajaj, VP, Nimbuzz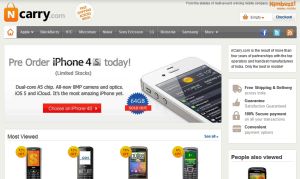 Chat app company Nimbuzz announced that it has launched an e-commerce website called NCarry.com that will offer the latest phones for purchase. The website offers a wide range of handsets from all top handset manufacturers such as Nokia, Apple, Samsung, Blackberry, HTC, Micromax, LG and Motorola. In India, there are a number of e-commerce sites such as Letsbuy.com, Flipkart.com and Buytheprice.com are already catering to the demand for handsets and consumer electronics. In conversation with Techcircle.in, Nimbuzz's vice president of business development, Keshav Bajaj, shares the reasoning behind launching an e-commerce site and the recommendation engine that will succeed it as well as monetisation plans.
Why has Nimbuzz launched an e-commerce site? We understand our customers and know that they change their handsets every 14 months. So we decided to develop a recommendation engine that will help them upgrade their handsets. People who use a smartphone have a higher stickiness to apps. They also use other apps on the phone and our end goal is to grow the mobile Internet ecosystem in India by selling smartphones. E-commerce is another stream of monetisation for us. We plan to offer a recommendation engine for our subscribers so they can upgrade their handsets directly from the website. We are in the process of developing the recommendation engine now. We will launch it in the next six months.
Why did you launch it now? The dynamics of both businesses are very different. We understand chat and wanted to now understand the handset e-tailing market too. Our user base is in the order of millions and trying to understand behaviour of all users according to geographies is a humongous exercise.

What is the website exactly? How are you positioning NCarry.com? NCarry.com is a smartphone upgrade site where you can buy good handsets. We will not show promotions. We are talking of a very innovative way of doing e-commerce. Since we already own users, it is our way of developing a relationship with them.
So will Nimbuzz users get a discount? No "there will be a single pricing. In terms of pricing, we will be just another vendor and have to follow rules of OEM.
What are your expectations from the site for the year, in terms of traffic and transactions? We are not focusing on that right now. We are focusing on making it a monetisation tool for our existing Nimbuzz users.

Can you share an estimate of the revenue contribution of the site to Nimbuzz's overall revenues? It is too early to say. It's just to support to our existing apps. Our target is to be present in all smartphones.
How does NCarry.com compare with Letsbuy.com or Buytheprice.com? We are not in competition with e-commerce sites. We plan to create a union of captive Nimbuzz users and upgrade the entire market with smartphones. We want to give our userbase an upgrade so every handset in this country should have Nimbuzz on it. The e-commerce site is just the beginning. We also want to have other monetisation channels – low hanging fruit as well as initiatives that jell well with our overall strategy.
How many users do you have in India? We have a 65 million user base globally and a huge chunk of it is from India. Growth in Asian countries is huge and we are doing very well here. India is a focus market. There is a natural migration from voice to messaging to data that is occurring. And chat is a basic app that is adopted in the early stages of data usage.

Tell us about the product development that is happening in India?
Chat and social networking is very region-specific. So what will work in the Middle East may not work in India. Products have to be very specific to the user and hence our development efforts in the country are focused on Indian users. The recommendation engine is being developed in India.
---