Battle Of The Smartphones: Top Brands Face Off In India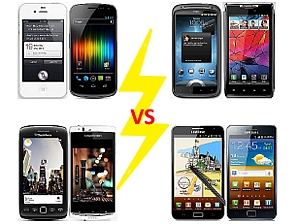 Indian mobile phone market has become a battleground where top brands face off against each other for smartphone supremacy. The cut-throat competition between companies means that the various handset manufacturers have to keep on innovating and launching new and attractive products at regular intervals to capture the imagination of the consumers.
Although the big daddies of the handset world had unveiled their latest bunnies internationally, with the formal launch of Motorola RAZR and iPhone4S with local pricing in India over the past one week, Techcircle.in now takes an in-depth look at the top smartphones available in the country as of now and what makes them tick. Since we have already written about all the smartphones separately earlier, this piece would strike a balance between how they compare in features and the price at which they are available in the country.
Let us first introduce our fighters: BlackBerry Torch 9860, HTC Sensation, Samsung Galaxy S II, Samsung Galaxy Note, Motorola RAZR, Sony Ericsson Xperia Arc S, Galaxy Nexus and the Apple iPhone 4S.

Display
Half of the smartphones in the list fall short in terms of display screen. The only ones worth mentioning are Samsung's Galaxy S II, Galaxy Note and Galaxy Nexus, Apple's iPhone 4S and Motorola RAZR. The Samsung family clearly rules the display segment with 3 out of the 5 smartphones from the company mentioned here.
Galaxy S II has a 4.3inch WVGA SUPER AMOLED Plus capacitive touchscreen (480 x 800 pixel resolution) with 217 pixels per inch (ppi) pixel density, while Galaxy Nexus comes with a 4.65inch Super AMOLED capacitive touchscreen (720x1280 pixel resolution) with 316ppi. Their big brother Galaxy Note comes with a mammoth 5.3inch HD Super AMOLED capacitive touchscreen (800x1280 pixel resolution) with 285ppi, the iPhone 4S comes with a 3.5inch LED-backlit IPS TFT capacitive touchscreen (640x960 pixel resolution) with 330ppi and finally Motorola RAZR has a 4.3 inch qHD Super AMOLED Advanced capacitive touchscreen (540×960 pixel resolution) with 256ppi.

Operating System
Android is the clear favourite among the operating systems(OS) since apart from the iPhone 4S, all the other smartphones run on it. Galaxy Nexus operates on the latest Android 4.0 Ice Cream Sandwich OS while its competitors run on the 2.3 version (although most of them will eventually get the ICS upgrade). Also, since we have already compared Android ICS with Apple's iOS5 (read here), Galaxy Nexus is the clear winner when it comes to the OS.
Processor and RAM

On paper, Galaxy Note wins hands down in terms of processing power and RAM. It is powered by a 1.4GHz dual-core ARM Cortex A9 processor, Mail-400MP GPU, Exynos chipset and has 1GB of RAM. Also, users have a choice between 16 and 32GB of internal memory that is further expandable to an additional 32GB with the help of a microSD card.
Camera
Almost all the smartphones (except Galaxy Nexus, Sony Ericsson Xperia Arc S and BlackBerry Torch 9860) come with an 8 mega pixel (3264x2448 pixels) autofocus camera with LED flash that can record full HD videos (1080p) at 30 frames per second, so it will be very difficult to give them a rating without actually clicking photos and recording videos and comparing them. So for now, as far as camera goes, we will call it a tie.

Dimensions
While Motorola RAZR is the slimmest of the lot (it is only 7.1mm thick), Samsung Galaxy S II is the lightest ( its weight is only 116grams). If you compare the two, Galaxy S II wins by a small margin with its dimensions being 125.3mm x 66.1mm x 8.5mm and its weight is 116grams while Motorola RAZR's dimensions are 130.7mm x 68.9mm x 7.1mm and its weight is 127grams.
Price

Even though specifications matter a lot, in India, the success of any device finally boils down to its price (that is why we saved the best for the last). The mobile phones are/will be (in the case of iPhone 4S which ships from November 25 and Galaxy Nexus that does not have a fixed India launch date as of now) available in the Rs 25000-51,000 price range.
BlackBerry Torch 9860 sells for Rs 28,250, HTC Sensation for Rs 29,600, Samsung Galaxy S II for Rs 29,900, Samsung Galaxy Note for Rs 33,500, Motorola RAZR for Rs 33,990, Sony Ericsson Xperia Arc S for Rs 27,000, Galaxy Nexus (Indian price not available as of now, but it should be in the Rs 35,000-45,000 range) and the Apple iPhone 4S 16GB for Rs 44,500 and 32GB for Rs 50,900.
Our Verdict

Although Sony Ericsson Xperia Arc S and BlackBerry Torch 9860 are no doubt the cheapest of the lot, they are not that impressive when it comes to their specifications. On the other hand the iPhone 4S, although is pretty impressive, has been so atrociously priced that is not even worth purchasing. We would suggest you can skip these three devices and opt for any one of the remaining smartphones. Even though they will still burn a hole in your pocket, it will all be worth it.
---