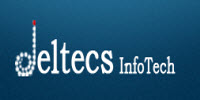 Deltecs InfoTech, a Mumbai-based firm operating in the enterprise mobility space with focus on learning and executive training, has raised an undisclosed sum from the Kutchi Angel Network (KAN). The promoters of business houses like Anchor Group, Navneet Group and Gala Group have formed KAN thatwill essentially support entrepreneurs from Kutch district of Gujarat. Although the deal value is not immediately known, KAN looks to invest Rs 50 lakh-Rs 5 crore in start-ups and early-stage ventures. The company will use the funds to expand into new markets.
Deltecs was founded in February 2007 by former Wipro engineers Divyesh Kharade, Jinen Dedhia and Akash Shah. Its flagship product DRONA provides mobile learning to executives via smartphones. These can also be used as corporate video channels for training purpose or internal communications. Some of Deltecs clients include Airtel, UltraTech Cement, State Bank of India, Wipro, Fullerton and Indian Railways, among others.
The company has recently launched BizPunditz that provides soft skills training through a video clip spanning 3-6 minutes. It has also signed up cricket commentator Harsha Bhogle and his wife Anita Bhogle (a well-known corporate lecturer) for this training programme.
The company charges corporate houses/enterprises for its product either on an annual licence fee basis or per user basis. Deltecs products are currentlyused by close to 2,000 people.
Incidentally, KAN's investment into Deltecs marks its debut deal. It would also close an investment in the manufacturing space soon, said Kirit Gala, managing director of Gala Precision Engineering and one of the promoters of KAN. In 2009, he sold the compressor business of his group to Switzerland-based Hoerbiger. Gala Precision Technology, the compressor unit, was backed by India Value Fund Advisors.
Other promoters of KAN include the Anchor Group, which sold its electrical accessories business to Japanese electrical giant Matsushita Electric Works for Rs 2,000 crore and has interests in FMCG, real estate, writing products and IPL (as an investor in Kochi Tuskers); Navneet Group, whose flagship is the BSE-listed education content provider Navneet Publications (India); promoters of chemical manufacturing firm Aarti Industries and the jewellery firm Antara.
In addition to investments, KAN will also provide mentoring and take board seats in its investee companies. The network will look to invest across all sectors except real estate, hotel & restaurants, alcohol, poultry, fisheries, leather manufacturing and tobacco & related products.
Kutchi Angel has already seen 20-25 investment proposals from entrepreneurs, according to Gala. And KAN's brand promotion is mostly done through a community newsletter, as well as through the Kutch Corporate Forum. KAN may look at adding more members (investors) to its network and invest in entrepreneurs outside the community.
Most networks, which have recently come up, focus on certain regions. For instance, there are Hyderabad Angels, Pune Tech Angels, East Angels and Business Angel Network of Kerala.
Over the past one or two years, there has been an increasing interest in angel investment, given the success enjoyed by established players like the Indian Angel Network (IAN) and Mumbai Angels. Also, cash-rich entrepreneurs see start-ups as good investment opportunities.
---