Sabeer Bhatia's Sabse Technologies Launches JaxtrSMS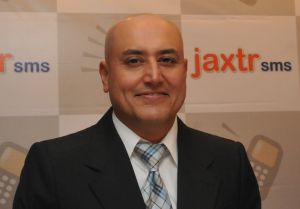 US-based video conferencing service provider Sabse Technologies, co-founded by Sabeer Bhatia (yes the one-who-sold-Hotmail) and Yogesh Patel in January 2008, has launched JaxtrSMS, a chat application for mobile users.
Bhatia expects to raise between $10 million to $15 million from multiple Silicon Valley investors over the next few months to scale up JaxtrSMS. No further details were shared by the once-poster-boy-of-Indian-technology-sector. Bhatia founded the first browser-based e-mail service Hotmail and sold it to Microsoft in 1997 for an estimated $400 million.
Jaxtr is a Voice over IP app and a social network that was launched in 2007. It was acquired by Sabse in 2009 and continues to operate in US, Latin America and Europe. It has registered over 15 million users so far globally. In India, however, it was shut down by the government as consumer Voice over IP services are not permitted for national security reasons. Now, Sabse has officially launched a chat app called JaxtrSMS.
JaxtrSMS is a free application that allows users to send free SMSs to their family and friends across the globe. Users need to own a handset with GPRS capability and a data plan to send and receive messages. There is no registration required. It is available for download from all app stores as well as the website.

JaxtrSMS is similar to messaging applications such as Blackberry Messenger and WhatsApp. But unlike them, JaxtrSMS can be used by anyone to send a message to anyone's handset and is not closed in by any walled service. Blackberry users, for example, can only chat with other BBM users. WhatsApp requires the receiving user to also have the app downloaded on her handset. With Jaxtr, the message pops into the SMS inbox, if the app is not downloaded.
With JaxtrSMS, users will be able to avoid paying high costs of international SMS and the delays that are associated with it. "Jaxter does to SMS what Hotmail did for e-mail. Now, mobile users can leverage our free and open application to send messages to their contacts anywhere across the world without paying anything. Texting is essentially a zero cost service for operators. Yet they charge a premium to send a message," said Sabeer Bhatia, CEO and co-founder, Sabse Technologies.
The app was launched in a soft Beta five weeks ago on app stores and has already gained 10,000 users in Italy. It is also being used in Lebanon, US, Canada and Kuwait.
India is the second largest mobile market globally after China, but of the 800 million mobile users, only 10-20 per cent actually use GPRS or 3G. Bhatia expects that operators will use chat applications such as JaxtrSMS to grow the mobile Internet user base in the country. However, the company is not entering into partnerships with operators to bundle data plans with the app.
The target is to reach 100 million users worldwide by next year and 600 million the year after that. Once the app's usage scales to these levels, the company will look at multiple monetisation streams. Revenue models include contextual advertising and premium services such as offering rich media SMS (like SMS2.0 by Affle) or storing files received, backup and archival of text messages online. The approximate cost of such a backup and download service would be Rs 50, said Bhatia.
There are also plans to open up the API to developers who would create games and more premium services in the longer term.
Sabse expects to make the app popular by targeting the users in the 16-25 year old demographic profile using viral marketing. It is not partnering with operators for any promotional advantages. It will also introduce greetings and social media integration with Facebook and Twitter to grow usage of JaxtrSMS.
Here are some excerpts of what Sabeer Bhatia said at the conference:
Innovation: I got the idea for JaxtrSMS sometime last year as Yogesh and I were bouncing ideas back and forth. Texting has seen very little innovation over the years. JaxtrSMS is an Indian innovation. Our engineers at Ahmedabad and Mumbai have developed the product completely.
Then & Now: Fifteen years ago, the big idea was web-based e-mail products. The way we made it popular was giving it away for free. At that time there were just tens of millions of Internet users. Now there are 5 billion daily SMS users globally. Almost 3 of every 5 people use texting or SMS to communicate on a daily basis. In 2011, there were 7 trillion SMSs being sent by mobile users! And the opportunity for apps like JaxtrSMS will go up from $210 billion to $300 billion in the next few years.
Internet vs Mobile: Everybody is looking at mobile. Mobile is the best way to reach users. The mobile opportunity is bigger than Internet. There are 1.5 billion Internet users compared to 5 billion SMS users. We are still in a similar business because this is mobile Internet. Just as the killer app for Internet was e-mail, we believe that JaxtrSMS will be for mobile Internet users. Jaxtr is growing five times faster than Hotmail.
Investment Scene: Angel investors in India are still risk-averse. They are comfortable investing in BPOs and service providers. That's mainly because we have not seen any successful Indian companies at a global level yet.
Digital Advertising: Growing advertising in digital will supplement advertisements in print, TV and other media. It is another avenue for growing the market and is not competitive.
Question from Techcircle.in:
There was Arzoo.com, Layoffgossip.com, Yousalary.com, Nanocity and the Apnacircle exit. What were the lessons learnt from your earlier failed start-ups? You've got to keep trying. One of the mechanisms to success is to try enough times. If you realise that there is no traction for your start-up, shut it down. Think of something new. The Internet is full of new ideas.
Comment(s)