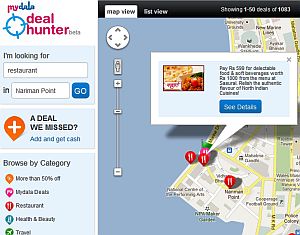 After launching mydala Mall, group-buying portal mydala.com by Delhi-based Kinobeo Software Pvt Ltd, has introduced a new feature that lets you find, share and zoom in on deals happening near you.
Called Deal Hunter, it has a map view that supplements a list of deals in a particular area. A similar start-up called Zoomingo, that offers shoppers in US location-based shopping, recently raised $1.3 million from venture capital firms Naya Ventures and Benaroya Capital.
Mydala's Deal Hunter offers a total of 13, 166 deals in categories such as restaurants, health & beauty, travel, lifestyle, fashion, home & baby, and gadgets. Currently, it has deals for Delhi, Mumbai, Bangalore and Pune.
"Deal Hunter offers a much-needed solution to a retail void that is a win-win for merchants as well as buyers. No more scouring your local paper, or sorting through your SMS's/email inbox. Deal Hunter does all the legwork for consumers," said Anisha Singh, Founder and CEO of mydala.com, which now has over five million users.
Using proprietary software, Deal Hunter aggregates sales and offers from various local merchants. These deals are over and above the ones that mydala.com already offers and are colour-coded appropriately. For example, a certain retailer might not currently be offering any mydala discounts, but Citibank card holders get 15 per cent off – so users of Deal Hunter can see this deal, walk into the outlet and avail of the offer.
Deal Hunter will also leverage user generated content, asking users to share the deals they have heard of while on the street. In return, the company will offer points which can be redeemed while shopping on the deals site. It is also wooing users with points for an opinion on deals – with the 'I love it' button.
Mydala has raised a total of Rs 28.1 crore from Info Edge (Naukri.com and 99Acres.com) and private equity investors Ajay Relan and Jayanta Basu as well as two unnamed US investors so far. Recently, mydala's co-founder and CTO Ashish Bhatnagar discussed the company's mobile strategy on Techcircle.in.
Snapdeal.com launched Deals Near Me, which was an additonal location filter for its users. It did not offer non-Snapdeal offers, nor a map view. There are also other mobile location-based services start-ups such as Mojostreet , Qub3, Clingle, and GetITMalls.com that allow you to find deals near you.
---