Cellular services firm Idea Cellular has entered the Android band-wagon by launching two Android smartphones called Blade and id-280 in the country. Both the devices are budget smartphones and are available across India (except Orissa, JK and Punjab Circles) for Rs 7,992 and Rs 5,850 for Blade and id-280 respectively.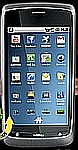 The devices support 3G and they will come bundled with 3G data plans. As of now, Idea is offering a special 3G data package worth Rs 3,500 for both pre-paid and post-paid customers that will include talk time of Rs 25, free subscription to Idea TV for a duration of 3 months, data download of 1GB/month for 3 months and 3G Double Dhamaka benefits for 6 months. Although to avail the special 3G data package, users will have to pay an additional Rs 259.
Both mobile phones run on the Android 2.2 (Froyo) operating system (OS) and have a Qualcomm chipset. While Blade sports a 3.5 inch capacitive touchscreen, id-280 has a 2.8 inch capacitive touchscreen. The internal memory of both the devices can be expanded up to 32GB and both have a 3.2 megapixel camera that can also record videos.
On the connectivity front, both smartphones have Bluetooth, Wi-Fi and 3G. Additionally, they can operate as Wi-Fi routers, have Opera mini web browser and come with social media applications for Facebook, Twitter and Orkut. The mobile phones also have a MP3 player, a FM radio and come with Google and Youtube pre-loaded in them. GPS navigation and access to Idea TV have also been provided. With Idea TV, users can watch Live TV (premium channels have been provided by the operator) on their mobile phones. Additionally, both the devices have a 1250mAh battery that should provide the users with decent battery life.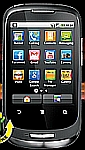 This is not the first time a service operator has launched its smartphone offering (though they were mostly as a bundled product) in India. Earlier Vodafone had launched Vodafone Blue (VF 555) followed by MTS launching its budget smartphones MTS Livewire and MTS MTAG 3.1 in the country. At the top end, Airtel and Aircel have been launching Apple's iPhone series as a bundled product.
Idea Strategy
What is notable, however, is that these two products from Idea are not bundled offering as one may suppose. This means a consumer can very well choose to buy them and go with an Airtel or Vodafone connection. Hence essentially, Idea becomes a reseller of products sourced from third party manufacturers (since it's not a handset brand per se).
This makes sense, as Idea would surely get a mark up from the price at which it would have sourced the products (possibly a Chinese/Taiwanese or even an Indian low cost handset maker or rather an assembler). It boosts revenues (as average selling price of handsets is much higher than average revenue per user for a service subscriber) and also profit, howsoever small.
Bundled handsets (that works with a business premise that a subsidised handset sale would eventually pay itself back through service usage) at the mass end of the Indian market turned out to be a disaster with Reliance Communications almost a decade ago where consumers who were supposed to pay back the money through service usage simple disappeared and many unlocked their handset through neighbourhood electronics stores.
---