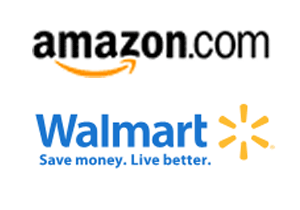 As a global heavyweight in online retailing, Amazon is, by any measure, a giant seller of products and also services(read: video streaming and cloud drive). But even this Goliath looks small compared to the thousand-pound-gorilla of retail business, Wal-Mart. However, as India formally opens its bustling retail sector to foreign investors, the battle of the online-offline retailer is poised for an interesting dash.
Given that Wal-Mart already has a presence in India with its wholesale cash & carry stores and a strong partnership with Bharti's existing retail chain while Amazon has a development center in the country(though there are strong rumors that Amazon is going to launch Indian retail business soon), it is a no-brainer Wal-Mart enjoys a head-start in running retail operations in the world's second fastest growing major economy.
But if the ground reality is stacked against the riders that come with the relaxation in FDI in retail, it may well be that Amazon could actually have a slight advantage. Here's how.
One of the key problems that an offline retailer like Wal-Mart or a Carrefour will face in setting up retail stores is local opposition. Retail is a state subject and even as the central government gives a green single to FDI in multi brand retail, while setting up shop they need to have an okay from the state government.
India's largest private firm Reliance Industries (who faced opposition with its Reliance Fresh stores in Uttar Pradesh) have had a taste of how state governments and local issues can be a big dampener for physical stores.
With around half of the states including some of the most populous ones are either ruled by parties not aligned to the ruling coalition in the central government or despite being part of it (like West Bengal) are opposed to FDI in retail, large swaths of the country may not immediately allow an offline retailer like Wal-Mart to open their retail outlets. Add to it the condition that foreign owned retail firm can only target cities with over 1 million population (on last count roughly 53 Indian cities qualify for it), there are not many places where a Wal-Mart can set shop.
Juxtapose that against options before Amazon that can sell online and ship anywhere as and when it does plan to do so. If we look at the restrictions on where all a foreign retailer can open store, it again appears to give an advantage to an e-tailer. However, one needs to check the final wordings of the notification if the 1 million minimum threshold population for setting operation carries to a foreign retailer also. Moreover, what's stopping Wal-Mart from going aggressive with its online retail model in states where it doesn't get to open an actual physical outlet. We will keep you posted on that one.
Having said that, the big question would be whether Amazon would still be keen on entering India with a 51 per cent ownership? This would mean bringing in an Indian partner or forming a large consortium of employees who would together have 49 per cent stake in the venture through employee share plans. This is not impossible, but it's a tricky affair.
The alternative is that Amazon takes the oft repeated route to sell online as other Indian e-tailers who have raised large amounts of cash from foreign venture capital firms. But then it had the option of doing so in the past too, if we discount the argument that Amazon was waiting to see traction in Indian e-commerce transactions. However, that doesn't hold muster if the success of online travel booking sites or even the experience of e-Bay is anything to go by.
When Infibeam's Vishal Mehta told Techcircle.in in an interview recently that an e-com firm can become India's largest retailer in four years, we didn't truly believe him.
But corporate valuation of India's hottest e-tailer Flipkart is said to be close to a billion dollars which is around 10 per cent more than the market cap of most valued pure retail firm in India, Pantaloon Retail. Moreover, if the exponential growth clocked by few local e-tailers are anything to go by and quick scale up opportunity in online retailing if one has the process in place, we may well be pleasantly surprised! Who do you think will win in India, Amazon or Wal-Mart?
---