ASUS Launches Super-slim ZENBOOK In India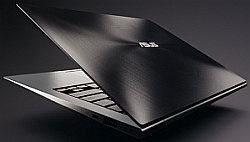 ASUS has entered the super slim segment of laptops in India with the launch of ZENBOOK UX31 Ultrabook. The new laptop runs on the Windows 7 operating system (OS) and comes with a fat free body- at less than an inch (0.11inch at the front and 0.67 inch at the rear), similar to the popular MacBook Air laptops from Apple (0.11inch at the front and 0.68inch at the rear).
The laptop has a 13.3 inch display screen (1600x900 pixel resolution) and users have the option of choosing between Microsoft's Windows 7 Home Basic, Home Premium and Professional OS. Consumers can also choose between a 2nd-generation Intel Core i5 2557M and an i7 2677M 1.7GHz processor and the laptop has 4GB of RAM.
In terms of internal storage, the device comes with a 128GB SSD drive but the users can also opt for a 256GB SSD drive. The device also has and Bluetooth 4.0 wireless connectivity and comes with a USB 2.0 port, a USB 3.0 port, a microHDMI port, and a SD carder. The audio in the laptop has been provided by Bang & Olufsen ICEpower SonicMaster (which basically means that the sound will be awesome).
The device has a built-in 0.3 megapixel Webcam and the laptop provides the user with more than 7 hours of battery life and 336 hours of stand-by time with a 50W battery, according to the company. Additionally, the laptop automatically saves open files to prevent data loss when the battery reaches below 5 per cent and the company claims that the laptop can resume from sleep within just 2 seconds. The laptop has a 286 Chiclit keyboard and its weight is 1.3 kg.
The ZENBOOK UX31 Ultrabook is available in the market as of now for Rs 89,999 (which is enough to burn a hole in your pockets) and the company is also planning to launch its younger brother, the ZENBOOK UX21 Ultrabook in 2012.
The new offerings from ASUS will compete with the likes of Apple's MacBook Air (price starting from Rs 65,000) in the Indian market, and looking at its configuration we have to say that ASUS has brought it's A-Game to the fight. Its other competitors in the market include Acer Aspire S3 (starting from Rs 49,999) and Lenovo's IdeaPad U300s (starting from Rs 67,900).
There is no doubt the ASUS ZENBOOK UX31 is obscenely priced, but the fact that the high-end model of the Apple MacBook Air matches its price and is still popular among buyers is testament enough that if a product is good enough, people will pay for it. But whether the ZENBOOK is such a product, is something we will have to wait and see.
Comment(s)