Vodafone Launches M-Paisa In Partnership With HDFC Bank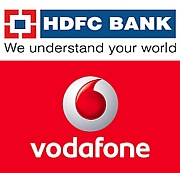 Vodafone India has partnered with HDFC bank to launch HDFC Bank MobileBank Account with Vodafone m-paisa. The service will leverage the intensive use of mobile phones in the country and has initially been started from the tehsil of Chomu, Rajasthan. Vodafone already offers a similar service called M-PESA in parts of Africa.
Through this arrangement, customers will be able to perform basic banking transactions (they can withdraw, send or deposit money) from their mobile phones at appointed Vodafone m-paisa outlets, without having to go to bank branches. HDFC Bank has also appointed a Vodafone India subsidiary company as a Corporate Business Correspondent, thereby allowing the telco's select retailers to represent the bank as sub-agents.
Customers can visit the Vodafone m-paisa outlets to open a HDFC Bank MobileBank Account. Once the account is active, they can deposit Cash at the outlet and the balance will be reflected in their mobile phones instantly. Customers can then choose to deposit cash, withdraw it, or send money to others. An option for balance enquiry has also been provided.
So if someone wants to withdraw money, he/she will have to generate a code in the form of a SMS on their mobile phones (by calling a number and following instructions) that authenticates the transaction. They can then show the code at a Vodafone m-paisa outlet and get cash in return.
Similarly, if you want to send money, you will have to provide the mobile number of the person to whom you want to send the money and a code will be generated on his/her mobile phone. They can then go to a Vodafone m-paisa outlet that is near their location and follow the same process to get cash.
Sunil Sood, Director, Business Operations, Vodafone India, says, "Vodafone's m-paisa is modeled on the lines of Vodafone's m-pesa product running in three countries of Africa. We expect many million people in India to come into the banking fold through Vodafone m-paisa in the coming years."
Currently, the service is only available in Rajasthan, although it will be made available in other parts of the country later. As of now, over 2,200 retailers across 320 villages and 54 towns are already operational in opening HDFC Bank MobileBank Accounts with Vodafone m-paisa. Transactions include cash deposit, cash withdrawal, money transfer and balance enquiry.
"All segments of society have demonstrated they are comfortable with using mobile phones. The partnership between HDFC Bank and Vodafone India leverages the telco's distribution reach and provides customers the security of financial transactions offered by a bank," said Rahul Bhagat, Country Head, Retail Liabilities, Marketing & Direct Banking Channels, HDFC Bank. "HDFC Bank has a Board-approved plan to bring 10 million families under financial inclusion over a five-year period and we see this initiative, helping us achieve that objective."
Airtel also offers a service called 'Airtel Money' in India which allows customers to use their mobile phones as a wallet to pay bills, recharge mobile/DTH and also book movies, among others. In comparison, users can only use Vodafone's service to withdraw, send or deposit money. They cannot use it to pay bills, recharge accounts, etc. But the fundamental difference between the two services is that while Airtel's service enables you to add money, you cannot withdraw it at a later point, although you can use it to make payments or buy goods and services. But with Vodafone's m-paisa, customers can also withdraw cash if choose to do so.
Comment(s)